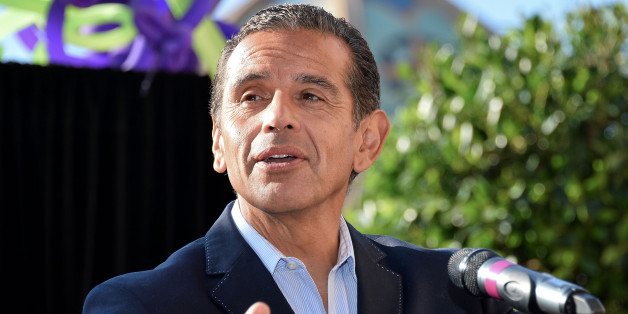 Two well-known former Latino mayors, Antonio Ramón Villaraigosa and Manuel "Manny" Díaz, and the Providence mayor Angel Taveras met at the 2013 New America Alliance Wall Street Summit to share with other prominent Hispanic leaders their vision and proven strategies that helped their cities overcome the effects of the Great Recession and poor former administrations.
Latino Mayors shared their vision
"This is a great opportunity to learn from three very successful mayors how they helped revitalize their cities," said Mickey Ibarra, Founder and Chairman of the Latino Leaders Network and panel moderator. "They are great examples of Latino leadership and influence in cities where Latinos not only follow."
In fact, Ibarra added, they have developed successful strategies in education, infrastructure and job creation in those cities that were bankrupt or near bankruptcy when they took office.
He believes Latinos are improving their political influence –six new Hispanic Congressmen and two Senators joined Congress in 2012. However, Latino officials still lag behind, not even close to their demographic representation in federal, state and local government.
"Latinos have made progress in political representation but we have no reason to be satisfied with these numbers," Ibarra told VOXXI.
A tale of three cities: City of Angels
Villaraigosa took office in 2005, was reelected in 2009 and left on July 1. Although controversy has tainted his political brand –which has weighted in the continuation of his public service career so far– Mayor Villaraigosa managed to be recognized as a fairly successful administrator during his mayoral tenure.
Villaraigosa presents himself as the "quintessential politician," always smiling and ready for a camera shot, grabbing the microphone every time he has a chance.
"I took office at a time when the city was almost bankrupt and made tough decisions," he said. The former Los Angeles mayor had definite wins in public transportation efforts, public safety –he claimed a significant reduction in crime rates–, and balanced budget cuts with limited service expansion and creative tax policies.
As third generation Mexican-American, Villaraigosa honored his hard-working parents and his ancestry. "Comprehensive immigration reform not only has to do with Latinos' work ethics but also with real economic reasons," he said.
In a city of four million people where Hispanics represent over 40 percent of its population, 44 percent of businesses have been started by immigrants, the Mayor said. "Seventy eight percent of children in school are of Latino background while 92 percent are children of color," he recounts.
The LA mayor compares the economy of the top three Latino cities in the country to France's economy.
"We need to unleash the economic Midas represented by Latino immigrants' economic and political power," Villaraigosa said. The key, he believes, is to decrease the achievement gap in education –a bar he was unable to raise during his administration.
A tale of three cities: Magic City
Mayor Diaz was elected to the Miami office in 2001 and reelected in 2005. He appears as a pragmatic business man with measured and precise words. The Cuban lawyer has been praised and criticized alternatively but in truth he turned around a bankrupt city, upgraded its municipal bonds from "junk" status to A+ rating, and increased city financial reserves to reasonable levels.
"Miami's 60 percent foreign born residents represent the new face of America, a face that sustains economic growth," Diaz said.
Diaz agrees that education is key in the achievement gap. "I received help from the government to go to school. The government made an investment in me and it got a good return," he said.
However, the political scenario has changed. "Instead of creating policies for education and job creation, this Congress is thinking about their next re-election. I received an email asking for my support to certain representatives the very same day the shutdown was announced," Diaz said.
The former mayor of Magic City believes jobs are important but it depends on the type of jobs being created. Service jobs at the bottom just results in everybody tripping over each other, he said.
"We also need to work together with police and immigrants; we need to prioritize resources and ensure that immigration reform implementation does not penalize immigrants for small offenses such as traffic tickets," he said.
A tale of three cities: the Creative Capital
An American-Dominican Brooklynite, Mayor Taveras decided to be a lawyer when he was 6 years old. His parents struggled as immigrants and the family moved to Providence in the seventies.
"I wanted to be in public service and help people," he told VOXXI. He was elected to office in 2010 by 82 percent of the general vote.
Taveras believes he is a poster child of the Head Start Program, and has worked restlessly to expand earlier education in his city. Since he took office, Providence has won the All-America City Award to boost third grade reading proficiency and other similar recognitions.
"The government dysfunction in Washington DC has a disproportionate impact on low income families and programs, especially WIC and Head Start," Taveras said. "We also need to watch implementation of immigration policies that claim to prioritize the use of resources. I took a stand on the Secure Communities Act and was clear that it would not happen in Providence under my watch," said Taveras.
The "Creative Capital" is home to 180,000 habitants, 40 percent of which are of Latino origin. "Sixty five percent of children in school are Hispanics. We need to give our children a better start so they can be ready to learn," Taveras said.
He has improved employment rates in Providence by granting tax benefits to local companies that hire from Providence residents while increased infrastructure projects that have created jobs in the public sector.
Taveras has been featured as a young promising Latino political leader who is considering running for the Rhode Island gubernatorial campaign in 2014.
Originally published on VOXXI as Latino Mayors, revitalizing cities for economic growth

BEFORE YOU GO
PHOTO GALLERY
10 Major U.S. Federal Immigration Laws