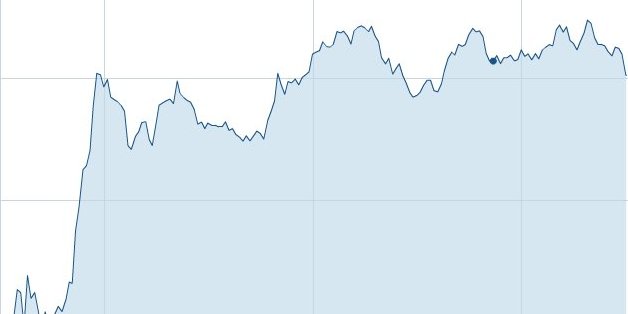 NEW YORK (Reuters) - Stocks surged on Wednesday on optimism that lawmakers, with time running out, would agree on a deal to prevent a U.S. debt default and end a partial federal government shutdown.
The gains brought the S&P 500 index within striking distance of the record 1,725 points set on September 18.
U.S. lawmakers were preparing a final push to pass legislation to lift the government's $16.7 trillion borrowing limit. The House of Representatives planned to bring up a Senate measure that would reopen the government and raise the debt ceiling, a House leadership aide told Reuters.
"Market participants on balance believe something will get done, and it's going to get done in typical Washington fashion, at the eleventh hour," said Art Hogan, managing director at Lazard Capital Markets in New York.
The Dow Jones industrial average <.DJI> rose 193.43 points, or 1.28 percent, to 15,361.44, the S&P 500 <.SPX> gained 22.51 points, or 1.33 percent, to 1,720.57 and the Nasdaq Composite <.IXIC> added 44.271 points, or 1.17 percent, to 3,838.281.
Throughout the debt crisis, many strategists have argued that the brief sell-offs would be a buying opportunity because Washington would get its act together eventually. That scenario, at the moment, seems to be playing out. On the New York Stock Exchange, more than three stocks were rising for every share that was falling.
All ten S&P sectors were up, led by financials <.SPSY> on hopes for the debt deal and strong quarterly results. The sector gained 1.8 percent.
Bank of America Corp reported a third-quarter profit of $2.22 billion, compared with a loss a year earlier, as provisions for credit losses fell. Shares were up 1.6 percent at $14.46.
"Not a bad quarter given the environment with Bank of America showing impressive capital levels and solid execution." Jeff Morris, head of U.S. equities at Standard Life Investments.
Shares of Yahoo rose 1 percent to $33.72 a day after the company reported third-quarter earnings that were slightly above forecasts by analysts.
Fitch Ratings late Tuesday said it could cut the sovereign credit rating of the United States from its AAA rating, citing political brinkmanship over raising the federal debt ceiling.
The corporate earnings season has gotten off to a good start as a majority of companies has met or beaten estimates, said Jonathan Golub, chief U.S. market strategist at RBC Capital Markets in New York.
IBM , American Express and eBay are all expected to report after the close of the market.
BlackRock Inc , the world's largest money manager, said its third-quarter profit grew 15 percent amid strong global demand from its retail and institutional clients. The stock was up 2.1 percent at $288.11.
J.P. Morgan will pay $100 million to settle charges for the "London Whale" trading scandal, the Commodity Futures Trading Commission said on Wednesday. J.P.Morgan shares were up 2.7 percent to $53.72.
(Editing by Bernadette Baum and Kenneth Barry)
BEFORE YOU GO
PHOTO GALLERY
11 Smart People Who Want To Abolish The Debt Ceiling