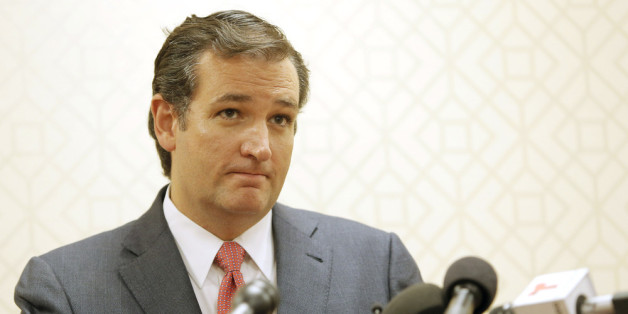 While I wouldn't go around proclaiming us to be entirely out of the woods yet -- living in a wholly asinine political culture all but demands that you apply pessimism to nearly every situation -- it would appear that our bicameral legislature will soon reopen the government, avert a default crisis and mutually agree to put us through all of this again at some point after the New Year. We shall stumble and blunder our way, a few steps more, into the murk of the future.
Should that happen, we can all set about writing the book on this period in our lives, and upon completion, burn it, obviously. For now, however, if you want to just do a brief round of "winners and losers," here you go!
Winner: Texas Senator Ted Cruz. Loser: you.
Mind you, if all goes according to plan, the losses you'll sustain won't be as horrible as they could have been. For example, we won't have the failure of our sovereign credit -- an important benchmark that governs the global economy.
What we'll have instead is a somewhat bruised and battered credit governing the global economy. As Reuters' Felix Salmon explains, U.S. Treasury bonds are "the risk-free vaseline which greases the entire financial system," and like it or not, the "U.S. government, in one form or another, is a counterparty to every single financial player in the world."
That means some certainty needs to hold sway in order for the complex machinery that pilots our economy to avoid getting all gunked up. As Salmon explains, even though we've probably avoided the worst, we've still crossed a line we shouldn't have. Per Salmon:
Fidelity, for instance, has no US debt coming due in October or early November, and neither does Reich & Tang:

"While he doesn't believe the U.S. will default, Tom Nelson, chief investment officer at Reich & Tang, which oversees $35 billion including $17 billion in money-market funds, said that the firm isn't holding any U.S. securities that pay interest at the end of October through mid-November because if a default does take place, 'we'd be criticized for stepping in front of that train.'"

The vaseline, in other words, already has sand in it. The global faith in US institutions has already been undermined. The mechanism by which catastrophe would arise has already been set into motion. And as a result, economic growth in both the US and the rest of the world will be lower than it should be. Unemployment will be higher. Social unrest will be more destructive. These things aren't as bad now as they would be if we actually got to a point of payment default. But even a payment default wouldn't cause mass overnight failures: the catastrophe would be slower and nastier than that, less visible, less spectacular. We're not talking the final scene of Fight Club, we're talking more about another global credit crisis — where "credit" means "trust", and "trust" means "trust in the US government as the one institution which cannot fail".
This is worth pondering during the period of time between the cessation of the current fiscal conflict and its certain renewal come January. But, then again, you may want to consider the more immediate impact this shutdown has already had on the economy. According to Standard and Poor's, the shutdown "has taken at least $24 billion out of the United States economy." And here are some fun facts from Bloomberg's Julie Bykowicz & Amanda J. Crawford:
Just one week into the shutdown, it had cost "1.6 billion ... in lost economic output, according to IHS Inc. (IHS), a Lexington, Massachusetts-based global market-research firm."
The shutdown drained "an average of $160 million each workday from the $15.7 trillion economy."
To put that into perspective, "September's heavy rains, flash floods and mudslides across 17 Colorado counties caused at least $2 billion in economic damages, according to Equecat Inc., an Oakland, California-based catastrophe-risk modeler."
"The National Association of Government Contractors found in an Oct. 1 survey of 925 members that 29 percent planned to delay hiring because of the stalemate and 58 percent said it will have a negative effect on business."
Add to those costs the follow-on impacts on GDP and unemployment, the many small ways the shutdown imposed hardship in all 50 states, and the anxiety instilled, briefly, in thousands of American families.
If there's one person who can rightly say all of this pain was worth it, it's Sen. Ted Cruz (R-Texas). And, in fact, he is saying it was all worth it:
CRUZ: We have seen a remarkable thing happen. Months ago when the effort to defund Obamacare began, official Washington scoffed. They scoffed that the American people would rise up. They scoffed that the House of Representatives would do anything and they scoffed that the Senate would do anything. We saw first of all, millions of millions of American people rising up across this country, over two million people signing a national petition to defund Obamacare. We saw the House of Representatives take a courageous stand listening to the American people that everyone in official Washington said wouldn't happen.
Yeah, so, the "bright side" of all the ways the shutdown cost normal human Americans is that Ted Cruz managed to build up his fundraising lists, so hooray!
The windfall hardly stops there. The Atlantic's Philip Bump noted that Ted Cruz's infomercial for Ted Cruz 21-hour speech in the Senate ahead of the shutdown helped his "still-young political action committee [pull] in $797,000 during the period that included his extended C-SPAN advertorial." Give Cruz some credit -- he made the effort and it paid off.
But lest you think that Cruz's windfall accrued in similar fashion to his ideological pals, consider the total bummer experience of Utah Senator Mike Lee, who's played the Grover Dill to Cruz's Scut Farkus during all of this shutdown hullabaloo. According to Bump, Lee's PAC only managed to rake in $525 in September.
Bump was later contacted by Cruz's super-empathetic state director, who wanted to clarify that if you combine all of the senator's various funding streams, the total yield was "$1.19 million from 12,000 individual donors."
At any rate, never let it be said that a government shutdown can't be a boon for one's wallet, it just probably won't be a boon for yours.
READ THE WHOLE THING:
The default has already begun [Felix Salmon]
Shutdown Costs at $1.6 Billion With $160 Million Each Day [Bloomberg]
Ted Cruz Admits Budget Standoff Was All About Building Fundraising Lists [ThinkProgress]
The Ted Cruz Filibuster Paid Off — for Ted Cruz! [The Atlantic]
[Would you like to follow me on Twitter? Because why not?]
BEFORE YOU GO
PHOTO GALLERY
Sen. Ted Cruz