The way this woman chose to stick up for her husband is utterly perfect -- and a great lesson in the why you shouldn't be too quick to judge.
When Matt Milstead returned to his car after a game of wheelchair rugby at a YMCA in Grand Rapids, Mich., he was surprised to find someone had left a hurtful -- and incorrect -- note.
Milstead, who is quadriplegic, had every right to park in that space. That possibility clearly hadn't occurred to the person who left this note: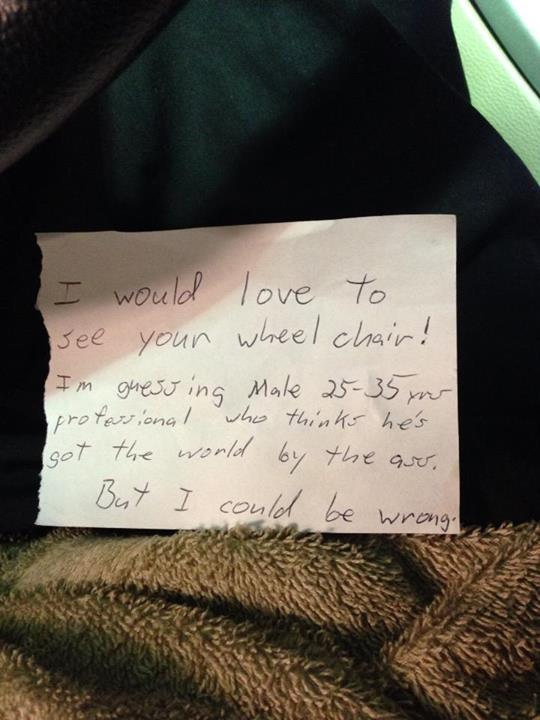 Photo via Leslie Milstead/Facebook.
Though Milstead told WOOD TV 8 he was puzzled when he first saw it, his wife, Leslie, had a different reaction. She told the news station that, while she assumed the writer was trying to right a wrong, she felt "instantly furious."
Leslie shared the note on Facebook last week, along with a response directed at the anonymous note-leaver. Sharply-worded but not spiteful, she gives the individual a piece of her mind:
To the author of the note left on my husband's car at the David D Hunting YMCA:

I wanted to tell you a little bit about my husband since you took the time to write him in the parking lot last night.

You were so close on the age, he's actually 36, and he is a professional with a full time job. He is also a quadriplegic, which for him means that he can no longer move his legs or his fingers in either hand. He has no grip.

So, if you are willing to give him your functioning hands and legs for the rest of your life in exchange for his 6-year old BMW and handicapped parking pass, I'm sure he'd make that trade.

As for "having the world by the ass"...you think he's some arrogant jerk who wants to park his fancy car in a handicapped spot and strut into the YMCA in Grand Rapids, MI because he thinks he's a bad ass? Why are you so confident that a handicapped person couldn't be a hard worker who is successful and owns a nice vehicle?

I would say he's a good guy dealing with some tough circumstances that he refuses to be knocked down by. Thankfully, he just shakes his head at people like you who leave notes on his car. Trust me, you aren't the first. Ignorance is everywhere.

P.S. Look Matt Milstead up on Facebook. You'll get to see lots of pictures of that wheelchair you had questions about.
Commenters on Leslie's Facebook post voiced their support, both for Milstead, and for Leslie's response to the situation. "Matt, She is a keeper," one commenter wrote.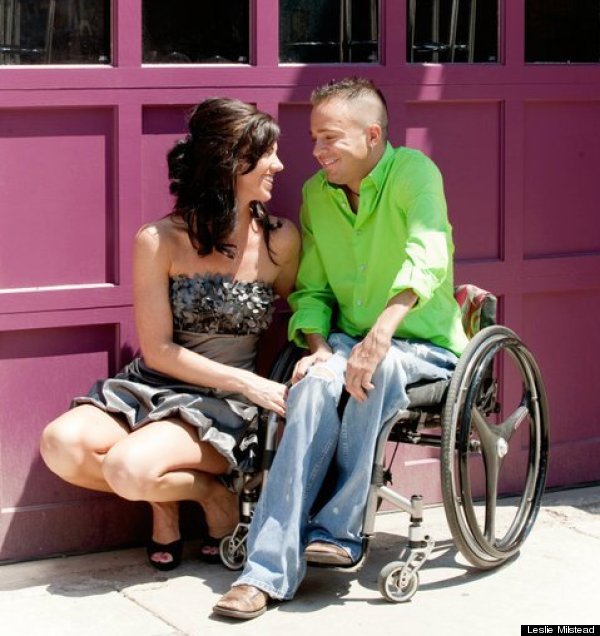 Photo via Leslie Milstead/Facebook.
BEFORE YOU GO
PHOTO GALLERY
Won't You Be My Neighbor?