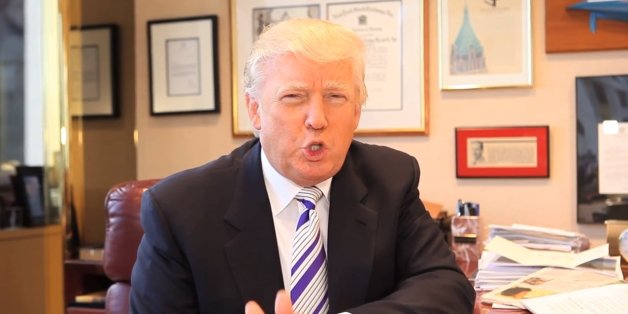 The tweet came out of nowhere on Friday:
I love watching the dishonest writers @NYMag suffer the magazine's failure.

— Donald J. Trump (@realDonaldTrump) October 18, 2013
Oh, Donald. There he goes again!
Every so often, we like to check in on Mr. Trump to see which news outlets and random enemies he happens to be targeting for seemingly no reason whatsoever. Well, probably the outlet or person in question pointed out some accurate fact about Trump, as New York has done in the past.
It turns out that, over the past couple of months, the presidential jokester and birthervangelist has been as active as ever in his efforts to attack people in the media completely out of context.
In Trump's world, Bryant Gumbel is Public Enemy Number One:
In that @TimeWarner has @HBO with really dumb racist Bryant Gumbel(and I mean dumb), and no CBS (which fired Bryant), I am switching bldgs.

— Donald J. Trump (@realDonaldTrump) August 30, 2013
So is MSNBC's Touré:
The ratings of The Cycle on MSNBC, a sad and pathetic show, are way down. If they fired racist moron @Toure, a truly stupid guy, they live!

— Donald J. Trump (@realDonaldTrump) August 30, 2013
Also he has a problem with Neil Patrick Harris, which we thought was all but impossible:
Is it the Neil Patrick Harris show or the Emmy Awards?How was he ever put in this position to start with? CRAZY!

— Donald J. Trump (@realDonaldTrump) September 23, 2013
And Jay Leno? Don't even get the Donald started! Jay probably made a joke about his hair or something, which nobody has ever done in history:
Jay Leno and his people are constantly calling me to go on his show. My answer is always no because his show sucks. They love my ratings!

— Donald J. Trump (@realDonaldTrump) September 5, 2013
He also took important time out of his day to personally denigrate Tina Brown:
Tina Brown could finally be over. @thedailybeast is a total failure. She just got fired, great!

— Donald J. Trump (@realDonaldTrump) September 12, 2013
Even CNBC, which, as a faceless entity, probably doesn't have feelings, could not escape Trump's wild wrath:
Wow, @CNBC ratings are really low, worst in many years. I guess I'll have to start doing my Tuesday morning interviews with them again!

— Donald J. Trump (@realDonaldTrump) August 29, 2013
BEFORE YOU GO
PHOTO GALLERY
Donald Trump