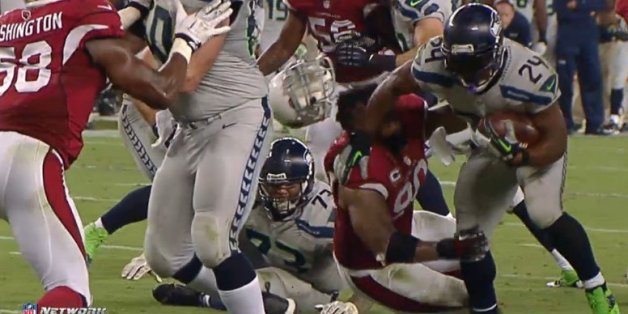 Darnell Docket is a massive 32-year-old defensive end who stands 6' 4" and weighs 290 pounds yet he was still no match for "Beast Mode" on this play. Seahawks running back Marshawn Lynch separated the Arizona Cardinals' three-time Pro Bowl selection from his helmet during a characteristically punishing run on "Thursday Night Football."
Taking a handoff from Seahawks quarterback Russell Wilson on a 2nd-and-5 play from the Cardinals' 5-yard line during the third quarter, Lynch rumbled straight ahead into traffic. Dockett shrugged off his blocker and attempted to take down the Skittles-eating bruiser near the line of scrimmage. Instead, Lynch lowered a shoulder into his would-be tackler and knocked off Dockett's helmet before continuing toward the end zone.
Although Lynch was initially credited with a score on the play, he was subsequently ruled down at the six-inch line after an official review of the play. After Dockett had his helmet returned, Russell Wilson tossed a touchdown pass to Kellen Davis on the next play to push the Seahawks lead to 24-13.
"Can anyone be tougher than Marhsawn Lynch?" Russell Wilson asked after the Seahawks 34-22 win over the Cardinals.
This GIF suggests the answers to Wilson's question is "No."
(GIF via SB Nation)
Fueled by his preferred sugary snack, Lynch tallied 91 yards on 21 carries with one touchdown and one Cardinals helmet as the Seahawks pulled away for the win over the Cardinals. According to ESPN Stats & Info, 78 of those 91 yards came after contact. Approximately five of them came after Dockett's helmet contacted the ground.
PHOTO GALLERY
Reactions To Beast Mode
For those who haven't seen enough, here is a more static look at the collision.
BEFORE YOU GO