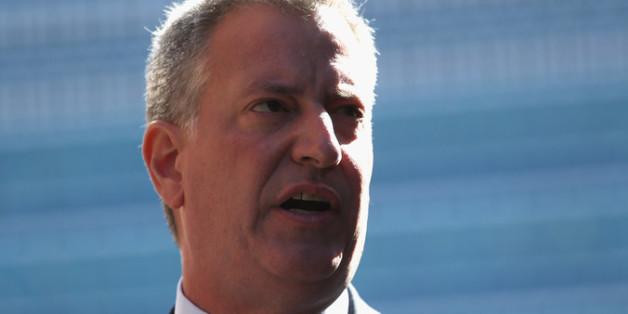 NEW YORK -- Bill de Blasio, the front-runner to become New York City's next mayor, called Monday for new technology and more police officers on the streets to address the growing number of criminals targeting iPhones and iPads.
Speaking at a press conference, de Blasio announced that he was joining a nationwide coalition of officials who are pressing Apple and other smartphone makers to implement technology that renders smartphones inoperable once they are stolen.
De Blasio, currently the city's public advocate, also sent letters Monday to executives at Apple, Microsoft, Samsung and Motorola, calling on them to introduce a so-called "kill switch" to make stolen phones useless.
But he added that such a measure "is going to take awhile," and called for putting more emphasis on "community policing" and more "cops on the beat" to reduce thefts in the short-term.
"The intelligence gathering that we need to amplify at NYPD would include identifying the kind of criminals who are committing these crimes," de Blasio told reporters.
The underground trade of stolen phones is now a global market worth an estimated $30 billion a year. It's made up of buyers and sellers around the world.
The rising crime, known as "Apple Picking," has become especially popular in New York. The city's overall crime rate increased last year due to a spike in stolen Apple devices.
De Blasio said smartphone makers may be reluctant to introduce effective anti-theft technology because it would mean "they may sell fewer of some products."
"But this is about the safety of our people and protecting people's lives and property," he told reporters. "And with this simple change, we could have a much safer city and a much safer country."
This summer, both Apple and Samsung announced new anti-theft features for the iPhone 5 and Galaxy S4 that are designed to lock phones when thieves attempt to use them. An Apple executive in June called the iPhone's new Activation Lock feature "a really powerful theft deterrent."
But the feature requires consumers to turn it on. On Monday, de Blasio said he was calling on smartphone makers to create additional security measures that work automatically.
De Blasio said officials could also pressure smartphone makers to act in other ways, including reducing pension fund investments in those companies or introducing legislation that bans smartphones that do not include a "kill switch."
New York Attorney General Eric Schneiderman, who appeared at the press conference with de Blasio, cited a new law in South Korea that requires smartphones made in that country to feature "kill switch" technology.
Schneiderman said similar laws could be introduced in other countries, including the United States, if companies fail to act. "If you don't work with us on this, you're going to start seeing states and countries passing legislation that you may not like," he said.
The pressure from de Blasio, who holds a sizable lead in the race for New York City mayor, came just days after two New York state lawmakers introduced a bill that would make it illegal for businesses to sell used smartphones without proof of ownership. The bill is aimed at the underground distribution network that serves the thriving black market for stolen phones in New York City.