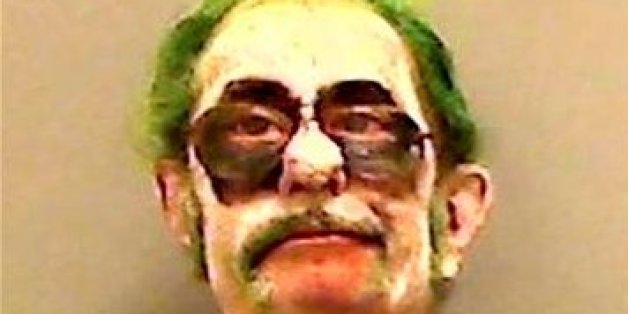 No need to call Batman, this joker was stopped by some trees.
Dennis Lalime, a 64-year-old Maine man returning from a Halloween party, crashed his car Sunday while allegedly intoxicated, the Morning Sentinel reports.
In his mugshot picture, Lalime can be seen wearing white face paint with green hair, similar to that of The Joker, comic book hero Batman's arch nemesis.
According to WCBD, Lalime allegedly lost control of his car at around 2 a.m., crashing into multiple trees and rocks before coming to a stop.
His car was damaged, but Lalime suffered no injuries.
Lalime was charged with operating a vehicle under the influence.
Perhaps Mark Wayne Williams, who paraded around as Batman, should have been the one to catch Lalime. Williams was arrested in September of last year and charged with obstruction of police after authorities said he wouldn't leave them alone while they searched for a driver who had fled an accident. Williams often dresses as Batman, and was once arrested after officers found him dangling from a rooftop.
Cops discovered Williams was carrying a baton, a canister of a chemical irritant spray and lead-lined gloves.
BEFORE YOU GO