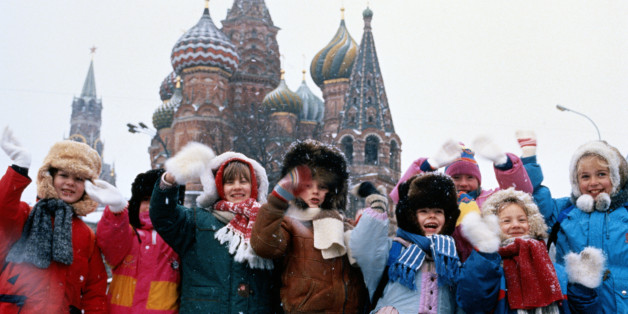 A proposed bill that would further solidify Russia's crackdown on its lesbian, gay, bisexual and transgender (LGBT) citizens has been recalled for revision -- though not entirely removed from consideration by lawmakers.
The proposed bill would reportedly strip the ability of LGBT parents to retain custody of their children by making the "fact of nontraditional sexual orientation" a basis for denying custody, the Associated Press reported last month.
Now, however, a spokesperson for Alexei Zhuravlyov (the far right MP who made the initial proposal) says the bill has been withdrawn, but plans are in place to resubmit it after some revisions are made, according to Buzzfeed.
Still, members of Russia's LGBT community say the existing anti-gay laws are "already having an impact."
"They are inciting enmity between people, it's a genuine witch hunt," Sasha, a lesbian living in Russia with her partner and their three-year-old son, told Radio Free Europe/Radio Liberty. "They are setting people against each other like dogs."
The parenting bill proposal first garnered international attention in the wake of the country's anti-gay "propaganda" law, which many have speculated will be used to arrest athletes and attendees at the 2014 Sochi Winter Olympics. Empowered by this legislation, Russian vigilantes contributed to the formation of a pervasive climate of fear and violence for LGBT citizens, resulting in both alleged public acts of violence and private acts of torture.
If the proposed bill is signed into law, it would reportedly equate homosexuality with child abuse and drug addiction in terms of parental rights to custody over their children.
BEFORE YOU GO
PHOTO GALLERY
Stars Sound Off On Russia's Anti-Gay Law