The wall seemed to come to life with every stroke that the painter, Sundar, wielded with his brush. His brush has its own tale to tell, witnessing for almost 36 years now, the rise and fall of political leaders to movie stars' climb to stardom.
Squatting in front of the wall, Sundar expertly arches out the intense and determined eyes of the Chief Minister of the southern Indian state of Tamil Nadu, J. Jayalalithaa, with his brush.
In most parts of the world, wall art is viewed as a tool of anarchy and personal expression -- a medium of protest, or for raising awareness.
I know it's vandalism but it's also art. #grafitti #train http://t.co/3VDm4iGCVV

— Andy Traub (@andytraub) June 19, 2013
Heard a guy today calling grafitti 'mindless vandalism' U know good sir that a lot of thought,time and effort go into those pieces.....

— Chris Pegg (@Urbanarty) June 1, 2012
But in Chennai, the capital of Tamil Nadu, public walls have been effectively mobilised for politics. Various political parties have resorted to walls as an alternative method of political campaigning.
Walk down the streets of Chennai and you will find Amma (Mother) as the Chief Minister, Jayalalithaa is referred to by her party men, in her maroon saree and determined expression, painted on the walls, smiling back at you.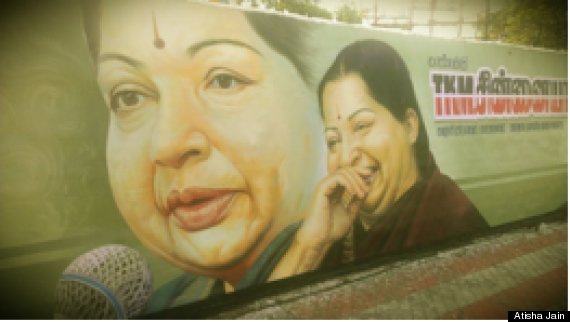 Tamil Nadu Chief Minister, J. Jayalalithaa
Garish posters of political leaders, compared to Che Guevara, or a deity or a lion, and political slogans, many of them in the colours matching their respective party flags, and sporting their respective election symbols, are a common sight to any visitor to Chennai.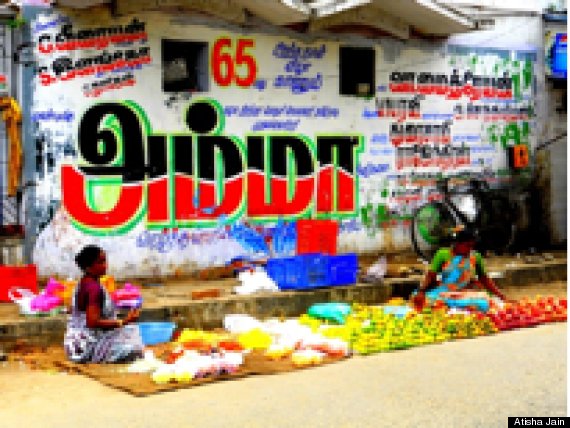 "Amma" (meaning "Mother" as Jayalalitha is fondly called by her partymen) painted on the wall
In a country with a literacy rate of 74.08 per cent these painted walls are an important medium for the political parties to communicate with the illiterate members of the population, where someone who cannot read can simply pick up the identical symbol on the ballot in order to cast their vote.
Cinema is another ritual (yes, ritual) which the people of Chennai take very seriously. Being a secondary hub for cinema in India (after Mumbai,) people of Chennai eat, drink and sleep movies. Thus, portraits of actors in varied avatars feature the walls of this land of Kollywood , as the Tamil film industry is commonly referred to. Life-like smiling wall paintings of Rajnikanth, the Tamil mega star and one of the highest earning actors in Asia, are a common sight.
Politics and cinema share a symbiotic relationship in Tamil Nadu, and political and movie icons are worshipped like nowhere else. Many of the cinematic gods, backed by their fanatic fans, end up joining politics.
For the last 45 years the state has been governed by politicians who had their roots in the film world. The present Chief Minister of Tamil Nadu, Jayalalithaa, was a popular film star before she entered politics, and her predecessor Muthuvel Karunanidhi was a leading screenplay writer. This explains the obsession of the city, and its walls, with both – politics and cinema.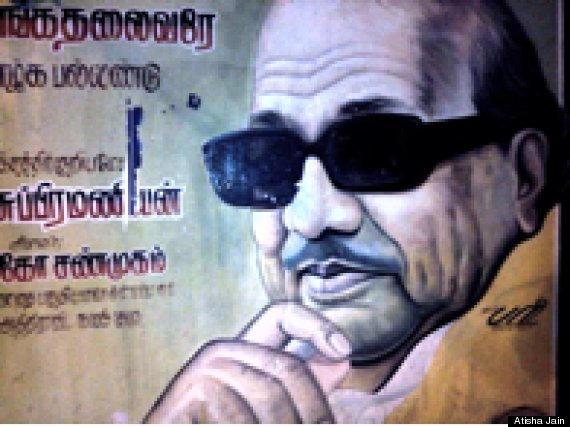 Muthuvel Karunanidhi, former Chief Minister of Tamil Nadu, and head of the Dravida Munnetra Kazhagam (DMK)
of Tamil Nadu
Wall painting has over the years emerged as a highly organised business.
"Currently, there are over hundred thousand painters working in this field, in Tamil Nadu alone, forming one of the largest numbers in the country," says 55-year-old Sethi Krishna, President of the Tamil Nadu Painter's Welfare Association. Like many in this field, Krishna too started, when he was 20, as a billboard painter for films, and then graduated to doing political wall paintings.
But while this wall art seems like a part and parcel of the culture of Chennai, it goes almost unnoticed that many of these wall paintings may be technically illegal. The Tamil Nadu Open Places Act and the Tamil Nadu Prevention of Defacement of Property Act prohibit such paintings unless expressly permitted by the owner of the structure whose walls are to be painted upon.
Additionally, during elections to the legislature or the parliament, the Election Commission of India bans political wall paintings for the duration of the election process which might run to six or eight weeks, putting a huge damper on the business.
But the bigger threat is from the introduction of digital printing--banners, flexes and vinyl posters taking over the strokes of the brush- jobs of the likes of Sundar.
"Our business has taken a huge dip now, as compared to the amount of work we used to get earlier. These banners can be printed in just half an hour as opposed to painting a wall which might take days," observes Sundar.
"Initially there were many more in this field. But now they have changed their occupation because the demand has decreased, especially for cinema paintings," adds Sethi.
But Sundar is hopeful. The city has embraced and modified this art of expression and today it forms an inseparable part of the city's identity. "There might have been a dip in this field over the years, but the culture of wall paintings, is here to stay. The walls will continue to talk."
---
This piece was produced as part of a collaboration between HuffPost and the Asian college of journalism in Chennai, India