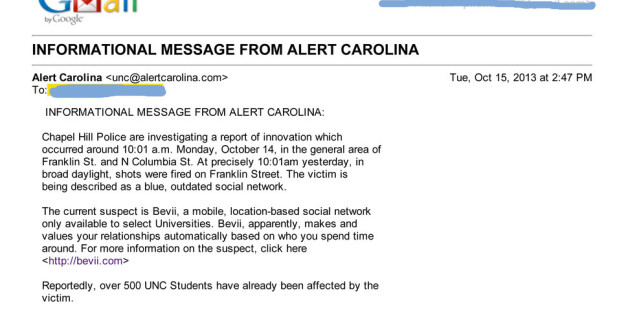 A student at the University of North Carolina-Chapel Hill recently launched a new social media startup called Bevii. To promote it, he decided to send a campuswide email suggesting there was a shooting near campus.
Bevii officially launched on Oct. 14, and was announced in an email on Oct. 15 intended to reach the the UNC-Chapel Hill campus community, posing as an AlertCarolina emergency notification email:
At precisely 10:01am yesterday, in broad daylight, shots were fired on Franklin Street. The victim is being described as a blue, outdated social network.

The current suspect is Bevii, a mobile, location-based social network only available to select Universities.
UNC sophomore Taylor Robinette, Bevii's founder, told Mashable it was supposed to be a "humorous" attempt to get attention on campus by "poking fun at another social media site that students don't use."
UNC did not think this was clever and is now investigating the matter.
"There have been no charges filed in the investigation into the fraudulent message on Alert Carolina," Jeff McCracken, director of the UNC Department of Public Safety, said Monday. "No further details are available, as the case is currently still under investigation."
Universities are required under the federal Clery Act to send campuswide notices and timely alerts to any dangerous crimes being committed on or near campus. If there was an actual shooting taking place or some other threat, students at UNC would've been told about it through the school's AlertCarolina system blasting out emails and other warnings.
UNC blocked the website from university servers, and further clarified to students in a real notice from their AlertCarolina system about the fake bulletin:
Campus authorities were made aware of a fraudulent "Alert Carolina Informational Message" email sent to a section of the UNC campus community. The message, from AlertCarolina.com rather than the valid AlertCarolina.unc.edu, was a hoax, directing recipients to visit a business website. Anyone receiving such alert-style messages from a questionable source should immediately verify the information by visiting the Alert Carolina website, where further information on valid alert communications is available
As the university's note mentioned, the system wasn't hacked. Instead, Bevii used an alternate domain address:
FYI, Alert Carolina wasn't hacked. It wasn't the same domain. Bevii illegally impersonated the service. pic.twitter.com/47jH137Iow

— UNC Humor (@UNCMemes) October 15, 2013
The marketing stunt didn't go over well, collecting mockery from several websites. ValleyWag caught some of the immediate backlash on Twitter about the fake email.
In an interview after the email circulated around UNC, Robinette admitted to Mashable, "This was a colossally, epically stupid idea."
BEFORE YOU GO
PHOTO GALLERY
April Fools Fails And Other Student Newspaper Mess-Ups