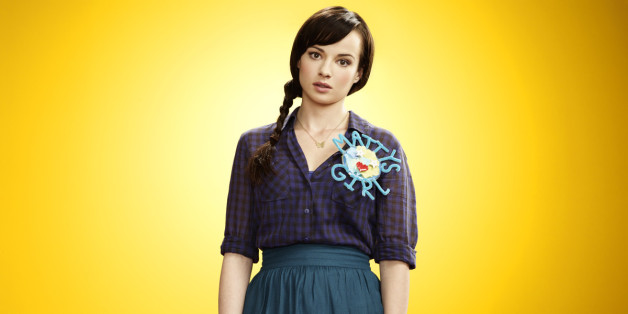 When "Awkward" returns with its final 10 episodes of Season 3 (Tues., Oct. 22 at 10:30 p.m. ET on MTV), life is going to get even more difficult for Jenna Hamilton (Ashley Rickards).
The midseason finale ended with our heroine locking lips with her new crush, Collin (Nolan Funk), but did current boyfriend Matty (Beau Mirchoff) see the smooch?
"The premiere show really picks up where we left off … We don't know what Matty saw or what Matty knows, so even beyond what Jenna's next move is, we still have to figure out what everyone else has really seen," Rickards told HuffPost TV at a recent press junket for the show. "It'll be interesting to try and figure out some reactions, let alone what to do next."
Judging by the promo for the show's return, Matty is oblivious about Jenna's cheating ways -- at least at first: "He knows something's amiss; she's been acting very strange and kind of distant," Mirchoff noted. "Matty's very naive but there comes a point where it's like, 'okay, things aren't quite adding up.' I can notice if a girl's acting a little different, but I don't expect it's me -- I never go 'oh, she's cheating on me,' I don't go there. This is Matty's first relationship, he's never experienced the hardships of a relationship or deceitfulness, and he has no reason to expect [it]."
Two people who aren't oblivious are Jenna's BFF, Tamara (Jillian Rose Reed), and her nemesis, Sadie (Molly Tarlov). Sadly, Jenna's indiscretion doesn't just affect her own relationship, it will also strain Tamara's: "It's really hard. Tamara is in the middle of this tense situation because Jenna is her best friend -- she obviously wants to keep those secrets and not ruin her life, but she's dating Jake [Brett Davern], who's Matty's best friend, and how can she not tell her boyfriend all of this crazy stuff and help Matty?" Reed lamented. "It's a difficult place that she's in and when Jake does find out about these secrets that Tamara's known about for a while he does get really mad, which is understandable, so it will test their relationship."
Sadie, meanwhile, smells blood in the water, and our resident mean girl has no interest in supporting Jenna -- Tarlov admitted that her only priority is Matty. "It's always Sadie's goal to humiliate Jenna; she's doing it for herself at this point. But I think this takes it to a new level because Sadie loves Matty and they have such a nice relationship and a true friendship and they've known each other for so long. Sadie has been abandoned by her family -- Matty is the only true friend she has, so there is legit protection going on, and she's mad."
But despite Jenna's protestations in the promo that the kiss with Collin meant nothing, Rickards admitted that there's a real spark between them. "What she sees in Collin is something she hasn't seen before, it's that simple," she explained. "That's exactly what she's doing this season, she's becoming somebody that we haven't seen before, and that's just part of growing up -- making potentially the wrong choice to know what the right one is. Trial and error."
That trial and error is set to drive a wedge between Jenna and her friends, but Rickards admitted that she's "super excited to delve into this new darker place -- to be able to take a character that, for the past few seasons, has been so normal and under the radar to this really interesting, complicated place is such an exciting venture."
She added, "Her and her friends' relationships are definitely going to be put to the test -- we're going to see her make some good decisions and some bad decisions. Maybe learning from mistakes isn't so obvious as seeing the mistake and not doing it again. Sometimes you've got to fall down a few times before you get a bruise."
"Awkward" airs Tuesdays at 10:30 p.m. ET on MTV.
Are you rooting for Jenna and Matty, or do you want to see her try things with Collin?