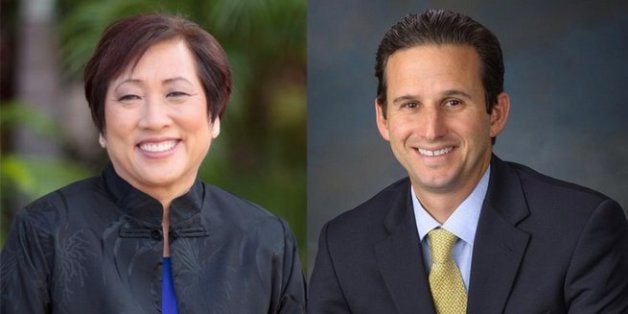 Incumbent Brian Schatz has a 2 percentage point lead over challenger Colleen Hanabusa, 38 percent to 36 percent, in the race to be Hawaii's next U.S. senator.
But more than one-fourth of registered voters (26 percent) still aren't sure which Democrat they will back in the Aug. 9, 2014, primary.
The latest poll numbers are similar to Civil Beat's June survey of the contest, which showed Schatz up 36 percent to 33 percent.
At the time, we said the Senate race was up for grabs. It still is.
"It's anybody's race," said Matt Fitch, executive director of Merriman River Group, which conducted The Civil Beat Poll. "It also suggests that most of the respondents, the majority, are fairly happy with the two choices."
Civil Beat surveyed 549 registered Hawaii voters who said they will vote Democrat in the primary. The poll, which was conducted Oct. 9-10, has a 4.2 percent margin of error. It includes both landlines and cell phone users.
Our poll was conducted during the middle of the federal government shutdown, when both politicians frequently criticized the Republican Party for the budget crisis. It was also done before third-quarter campaign-fundraising figures were released showing Schatz with a big lead.
Since that time, Schatz's campaign has released a memo to donors touting what it believes will win him the election. (Hanabusa's camp feels otherwise.) And on Monday, Hanabusa hired a campaign manager with close ties to organized labor. Schatz has won numerous endorsements and financial support from labor organizations.
Schatz was appointed to the Senate by Gov. Neil Abercrombie in December following the death of Daniel K. Inouye. Inouye asked Abercrombie to appoint Hanabusa to take his place, but the governor chose his own lieutenant governor from a party list that included the names of Shatz and Hanabusa and a third Democrat, Esther Kiaaina.
Likable Candidates

While both candidates are popular with their party, voters said they had a greater positive opinion of Hanabusa (61 percent) than Schatz (53 percent). But more than one-fourth (26 percent) of those surveyed said they were unsure of how they viewed Schatz, suggesting that his name recognition is lower than Hanabusa's.
"It makes you wonder if perhaps a deciding major factor over next the next nine months is how Schatz gets defined by himself and the Hanabusa campaign," said Fitch. "It is unusual to have a quote unquote incumbent have softer name recognition than the challenger."
Another interesting survey result: Thirty-nine percent said they would like to see others in the race. As of this writing, no other Democrat has declared their intentions to compete against Schatz and Hanabusa, while only one Republican, the little-known Cam Cavasso, is running.
Fitch and Merriman analyst Brendan Hood said the 39 percent likely reflected the survey's high undecided number of voters rather than voters wanting other candidates to jump in the race.
In terms of the gender and age of voters, neither candidate has a clear edge. But Schatz does better among Caucasians, Filipinos and Latinos, while Hanabusa does better among Japanese, Hawaiians and Chinese. Of those groups, Hood said the Caucasian and Japanese numbers are the most significant because Merriman polled more of them.
Schatz is Caucasian and Hanabusa is Japanese-American.
In terms of ideology, Schatz scores higher marks among liberals, progressives, moderates and independents, while Hanabusa does better among conservatives. Union and military households are roughly split in their support for the candidates.
Other differences: The more income a voter earns, the likelier they are to favor Schatz. Schatz also does better than Hanabusa on Windward Oahu, Maui and Kauai, but Hanabusa prevails in urban Oahu and the Big Island.
BEFORE YOU GO
PHOTO GALLERY
Obama Hawaii Vacation