Israel's flag made waves at the Swimming World Cup in Doha, Qatar -- before and after it was reportedly removed.
The sight of the flag flying Sunday along with other participating nations at the Hamad Aquatic Center shocked Qataris after it circulated on Twitter, reported Saudi Arabia-based news site Riyadh Connect. On Monday, the flag was gone.
(Story continues below image.)
صورة أخرى لعلم إسرائيلي يمثل الفريق الذي يشارك في بطولة #FINA للسباحة في قطر، خارج أسباير زون هذه المرة. #تطبيع pic.twitter.com/WNetzObK0e

— إم الصوص (@SaraAlDisi) October 20, 2013
Qatari organizers and broadcasters apparently used a graphic of a plain white rectangle instead of the Israeli flag during races, according to The Times of Israel. The meet, held Oct. 20-21, reportedly did not air some of the events involving Israelis.
Israel's Amit Ivry (also spelled Ivri by some outlets) won silver in the women's 100-meter individual medley, but instead of her nation's blue Star of David appearing with the flag graphics of the other top finishers, a blank flag can be seen in a YouTube video of the broadcast. (Israel's official flag eventually made an appearance at the end of the video clip.)
(Story continues below.)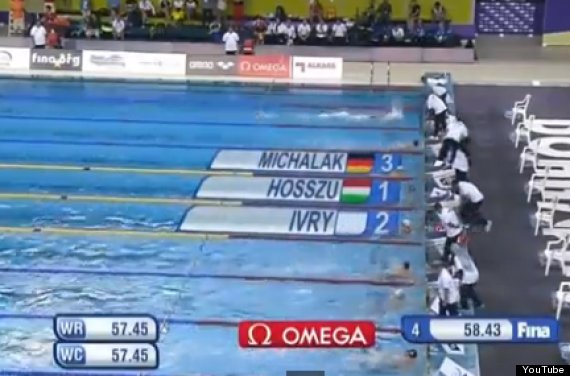 A blur of white appears instead of Israel's flag beside second-place finisher Amit Ivry's name.
"I'd much rather not talk politics," Ivry said of the incident, per The Times of Israel, adding that the Israeli flag was raised during the medal ceremony.
An Israeli delegate said he would file a protest with the International Olympic Committee and the International Swimming Federation, the Times also wrote.
At a Swimming World Cup event in Dubai Oct. 17-18, the hosts again attempted to conceal any presence of Israel, according to Israeli news outlet Haaretz. Broadcast and written accounts showed no flags, made no mention of Israel and even turned the camera away from Israeli contenders in certain races, the paper reported.
The effort resulted in "disruptions both to television broadcasts and in publicizing race results poolside," according to Haaretz. Israeli swimmer Gal Nevo told the outlet that swimmers from other nations were annoyed that some results were not posted on the scoreboard, making it difficult to determine whether they had qualified for the next round.
Athletic boycotts of the Jewish state are nothing new, but when nations that either do not recognize Israel or are in conflict with it host international competitions, the pressure on them rises to be inclusive.
Federation Internationale de Natation, the governing body of the World Cup events, bars discrimination based on "political opinion," according to its website.
BEFORE YOU GO