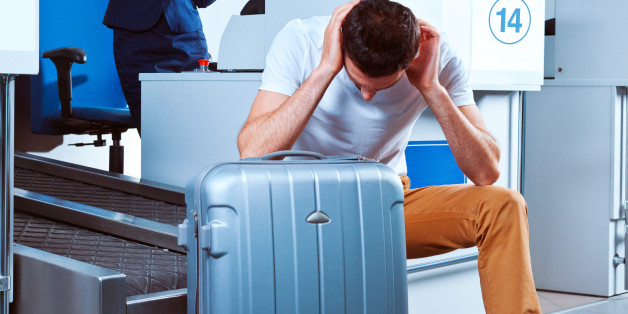 Airline fees are pretty much the bane of our travel existence. It'd be one thing if they were listed clearly in the open. But alas, extra fees are incredibly sneaky, tricky, hidden and confusing. They are ZERO fun.
We attempted to make sense of the madness by charting the extra fees for checked bags, WiFi and more on the country's eight largest airlines.* As we see it, here's where you'll get nickel and dimed the least for your favorite perks.
Best For Bag Checkers
Southwest Airlines
Your first and second bags fly free, whereas the majority of airlines charge $25 for the first checked bag and $35 for the second.
Best For Legroom Lovers
JetBlue
Standard JetBlue seats have a width of 17.8 inches, which is pretty similar to the other airlines we surveyed. However, they've got about two more inches of "pitch," which loosely translates to two inches more legroom.
Best For Pet People
Southwest or Alaska Airlines
If you're going to bring your pet onboard, Southwest is cheapest-- they charge $75 per pet while other airlines charge $100 or more. If you're looking to stow Fluffy in cargo, though, Alaska wins out with a $100 fee.
Best For Snackers
JetBlue
Not every airline rains free peanuts on us nowadays. JetBlue is among the few that still showers us with complimentary snacks, and they're ultra-gourmet ones at that.
Best For Movie Buffs
Alaska Airlines
If you're going to watch two movies or more, Alaska offers the most bang for your buck. For $8, you can rent an "inflight entertainment device" with unlimited movies and TV shows. They're not on every flight by any means, but they're pretty nifty.
Best For WiFi Users
Alaska Airlines
This is a tough one to call. Many airlines use Gogo, a service that sells an "all-day pass" with 24 hours of Internet access for $14. Some airlines that offer Gogo, however, also offer WiFi at a cheaper rate if you're looking to use it for less than an entire day. It's tricky to tell who's the cheapest since WiFi prices aren't reliably posted and vary by route, but Alaska claims it can hook you up for as little as $1.95.
Best For Upgrade Fiends
American Airlines
Some airlines sell extra legroom seats and priority boarding passes separately, some sell them combined, and some don't sell them at all. The cheapest-seeming catch-all is American's Main Cabin Extra pass, which gets you Group 1 boarding and "up to six inches" of extra legroom starting at $8.
*We surveyed: Delta Air Lines, United Airlines, Southwest Airlines, American Airlines, US Airways, JetBlue, Alaska Airlines and Spirit Airlines.
BEFORE YOU GO
PHOTO GALLERY
Airline Fees