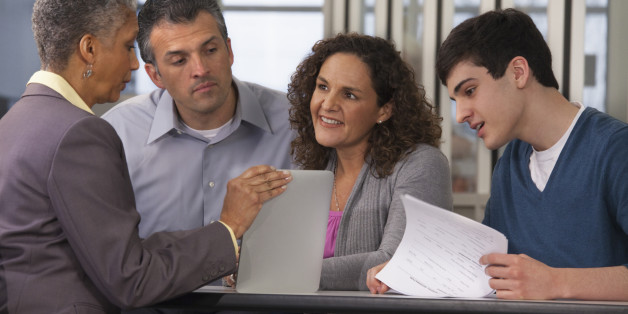 By Lily Herman
The college admissions process is in full swing, pre-collegiettes! It's natural to feel overwhelmed and confused after all, there are so many drafts, deadlines and applications to keep track of! But don't worry: Her Campus has your back. Here's your monthly checklist to the admissions process, complete with recommendations for what needs to be done during every month of the year.
June
Happy summer, pre-collegiettes! Though summer is an awesome time to decompress, it's time to get your college admissions process going!
June Checklist
Create a binder or folder where you can store all of your college applications information in an organized manner. This binder can include divider tabs for all of the schools you apply to, deadlines and required materials for each, the supplements they require and drafts of your application materials.
If you haven't already, start researching schools online that you'd like to attend, and visit their respective campuses if you're able to.
Start researching scholarships you'd like to apply to! Like your college binder, create a binder or folder for all of your scholarship websites, applications, supplements and login information. Looking for scholarship databases to help kickstart your search? Try Fastweb, Zinch and Cappex!
Take the June SAT, ACT or SAT Subject Tests! To register, go to the College Board's SAT website and make a profile. Then, using the easy online registration process, fill out when you'd like to take your SAT and SAT Subject tests. You can register for the ACT on the ACT Student website. Most schools take either test, and also remember that some schools are even standardized-testing-optional! For Subject Tests, check out individual colleges' requirements to see how many tests they recommend applicants have (many want at least one or two, but it varies greatly from school to school).
July
It's the middle of the summer, but that doesn't mean it's time to slack on college apps!
July Checklist
Keep researching colleges and visiting campuses if possible to narrow down your list.
July is also a great time to start writing your essays for the Common App and supplements if any of your schools have already released their essays (though this greatly differs from school to school and will require you to check individual college websites). The Common App essay questions are already available online, though!
Scores from your June standardized tests will be available four to six weeks after you take them, so you will most likely receive them during the month of July (and in some cases, even later June).
August
The Common Application opens on August 1st, so get a first look at what you'll be filling out this fall!
August Checklist
Even if you don't start filling out the Common App in August, it's important to take a look at it so that you won't be overwhelmed later on. Start outlining what you want to write in each of the sections, and start gathering up information you'll need.
In addition, now that you know exactly what supplement you'll have to start writing, finalize your college list and get to work!
Now that you know where you're applying to college, deadlines become the name of the game! Write down all of the application deadlines for every single school, and take note of early decision and early action timelines if you're applying to schools through those processes. Most of those deadlines are in November, but some are as early as October 1st.
September
It's time to start filling out your applications and making headway on the entire application process on several fronts! Now that the school year is in full swing, don't get behind on your applications, recommendations and testing.
September Checklist
Ask teachers for recommendations. Reach out to faculty members, hand them a copy of your resume or a summary of your accomplishments and tell them where you're applying to college. It's important to request recommendations early before teachers get swamped, so you should begin meeting with faculty as soon as you get back to school! Timeline-wise, all of your materials for any given application should be submitted two weeks before the deadline, so you should ask your teachers to send in recommendations three to four weeks before an application deadline.
Keep working on your Common App and any other college applications.
You should be making your way through drafts on your Common App essay and your supplements.
Keep an eye on scholarship dates! Many scholarships have deadlines in October or November, and you don't want them to hold up your entire admissions process.
Make sure you're registered for the October SAT, ACT or SAT Subject Tests if you need to take or retake them.
October
October is the month when the entire admissions process is in full swing!
October Checklist
Continue working on your apps.
Sign up for the November SAT, ACT or SAT Subject Test if you still need to take them or retake them. If you are applying early decision or early action to a college or several colleges, this is your last chance to take standardized tests!
If you're applying anywhere early action or early decision, you should be finishing and submitting your applications.
November
Deadlines for early action and early decision schools are this month!
November Checklist
If you are applying EA or ED, make sure every part of your application (application or Common App, recommendations, transcript, etc.) is submitted!
If you are having any problems with your ED or EA applications or your application status, talk to your college counselor or call the admissions offices of the school(s) you're applying to. Just remember: It takes colleges 24 to 48 hours to process application materials, so don't call five minutes after you've submitted anything!
If you're submitting applications by regular decision dates, you should be close to done with every component of your applications.
Sign up for December SAT, ACT or SAT Subject Tests if you still need to take them or retake them.
Scores from your October standardized tests will be available four to six weeks after you take them, so you will most likely receive them during the month of November (and in some cases, even later October).
BEFORE YOU GO
PHOTO GALLERY
20 Things Not To Worry About Before You Turn 20