Just when we thought we've closed the books on an offensive costume saga, the ensemble finds its way back into stores. The "Anna Rexia" costume that sparked controversy two years ago has now resurfaced online after being pulled in 2011.
The controversial get-up sparked uproar for making light of anorexia nervosa, a serious eating disorder, when it was being sold on HalloweenStore.com and the Ricky's website. Now, it appears that Halloweenparty13.com is selling the "Anna Rexia" costume for $39.99, using the same contentious tagline: "You can never be too rich or too thin."
Featuring a glitter screenprint skeleton minidress, a chocker neckband, measuring tape belt and an "Anna Rexia" badge, the outfit inspired a Change.org petition in 2011, which led to its removal from HalloweenStore.com. Ricky's had pulled the costume as soon as the initial backlash started, claiming "the store wasn't supposed to be selling the Anna Rexia costume anymore."
Dreamgirls International, the company which manufactures the costume, said in a previous statement: "We understand that some people will not find the dark humor funny ... Halloween is an eccentric and irreverent holiday for people to express themselves in a myriad of ways. While some people may not like a particular costume, it is a matter of taste and personal discretion."
It seems that Dreamgirls has changed its tune, however. Hypervocal recently spoke to Dreamgirls Director of Marketing Lar Hovsepian, who told them that the "Anna Rexia" costume was discontinued back in 2007 as a result of the negative press and no units have been sold since. "At this point it's out of our control," he said.
See the costume on Halloweenparty13.com below and tell us if you think retailers will learn their lesson this time.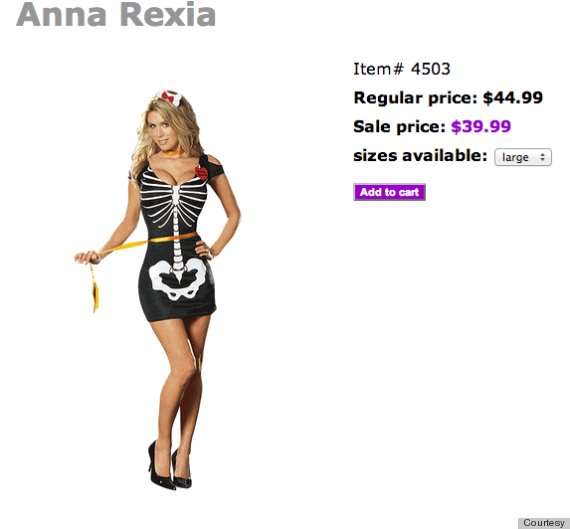 UPDATE: Halloweenstore.com has responded to the backlash on its Facebook page, stating, "Recently, we have received emails and Facebook attacks for a costume that has not been sold since 2011 ... We did NOT design, manufacture, etc this costume. We are a small family business that sold this costume, just as thousands of other stores did."
CORRECTION: A previous version of this article incorrectly stated that the costume was still available on Halloweenstore.com. In fact, as of the time of publishing, it appears it's actually available to buy on Halloweenparty13.com's site.
What were they thinking?
PHOTO GALLERY
The Most Inappropriate Halloween Costumes Of All Time (CLONED)
Want more? Be sure to check out HuffPost Style on Twitter, Facebook, Tumblr, Pinterest and Instagram at @HuffPostStyle.