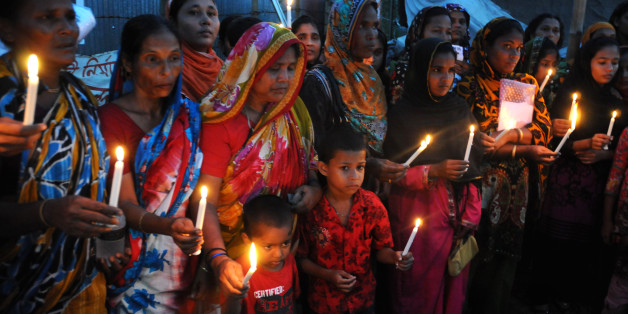 Spending our days on the interwebs has its advantages, one being that we come across lots of excellent pieces of journalism. Every week, we'll bring you our favorite online reads that didn't appear on our site. Disagree with the selection? Leave your suggestions in the comments or tweet #bestreads at @HuffPostWorld.
With U.S. Withdrawal From Afghanistan, American Military Gear Sold As Scrap
The Washington Post -- Kevin Sieff
With its eyes set on the 2014 drawdown, the United States is selling 12 to 14 million pounds of its equipment in Afghanistan every single week. Deemed too expensive to ship home, America is getting rid of some $7 million in goods in what The Washington Post labels "the world's biggest garage sale." Unfortunately, the massive sale does not make Afghans all of the sudden proud owners of flatscreen TVs and fitness apparatus. Fearing the equipment may fall into the wrong hands, most of it is destroyed and sold as scrap. If you're wondering what such a massive scrapyard looks like, this is a scene from one outside Bagram Air Base: "There's a tower of treadmills 50 feet high and an acre of American buses, trucks and vans, stripped of seats and engines. An ambulance is perched unsteadily atop a pile of scrap, as if it fell from the sky. A mountain of air-conditioning units sits next to a mountain of truck axles."
On The Ground With Syria's News Smugglers
The New Republic -- Matthew Shaer
Before the war, Wassim made leather purses which he sold in the bazaar of Syria's Homs. Now, the 26-year-old lives in the Turkish border town of Reyhanli and works as a citizen journalist, distributing videos and photos shot in his war-torn country. Once a sleepy border town, Reyhanli today is bustling with energy, full of refugees, hospitals, and hundreds of foreign and Syrian journalists. As it has become increasingly dangerous for reporters to venture into Syria, many use the Turkish city as their primary base of operation. Shaer writes for The New Republic: "Most of the citizen journalists I met were of a very specific type: early to late twenties, with carefully coiffed or tousled manes, glumly charismatic. Like the rebel fighters who are revered in many parts of Syria and the Turkish border areas, the citizen journalists, too, are viewed as heroes of the revolution."
Confessions Of A Drone Warrior
GQ -- Matthew Power
Although the U.S. has drastically increased its use of drones to target militants from Pakistan to Yemen, little is known about the operational procedures or the aircrafts' operators. Airman First Class Brandon Bryant served in the Air Force for six years, during which he participated in hundreds of drone missions that led to the deaths of a staggering 1,626 people. His team worked out of a military base in Nevada. The cockpits they used six days a week, 12 hours per shift were boxes, kept cool and dark at any time. A large part of Bryant's time was spent observing: He monitored scenes set from the ranges of the Hindukush to the Iraqi desert. He witnessed the execution of two women in an Iraqi square and an Afghan official digging his own grave before being killed by Taliban militants.
As Matthew Power notes in GQ, a recent study found that drone operators suffer as much from depression, anxiety, PTSD, alcohol abuse and suicidal ideation as traditional combat aircrews. Yet many struggle to relay their stress to the world. "Combat is combat. Killing is killing. This isn't a video game. How many of you have killed a group of people, watched as their bodies are picked up, watched the funeral, then killed them too?," Bryant wrote on Facebook, commenting on a post questioning the stress that accompanies flying drones. "Yeah, it's not the same as being on the ground. So fucking what?" he added.
Factory Deaths in Bangladesh Fail to Spur Inspections
Bloomberg -- Mehul Srivastava
Half a year ago, the deaths of more than a 1,000 people at a Bangladeshi garment factory sparked cries of outrage around the world. International governments and corporations vowed to improve work safety in the Asian nation, setting up programs to inspect the factories. Bloomberg reports that despite the public announcements, none of the programs have resulted in actual inspections so far. Yet as Dutch ambassador Gerben Sjoerd de Jong said this week: "There is no time to lose any more."
Claim on "Attacks Thwarted" by NSA Spreads Despite Lack of Evidence
ProPublica -- Justin Elliott, Theodoric Meyer
As activists and foreign governments turned up the heat on the Obama administration over the National Security Agency spying scandals, senators and officials often took to numbers to defend the necessity and effectiveness of the program. "We know of at least 50 threats that have been averted because of this information not just in the United States," President Obama said during a visit to Germany in June. However, how accurate was Obama's claim? Mere days before the president's announcement in Germany, Sen. Patrick Leahy (D-Vt.) cast doubt over the claims.
"We've heard over and over again the assertion that 54 terrorist plots were thwarted," Leahy said. "That's plainly wrong, but we still get it in letters to members of Congress, we get it in statements. These weren't all plots and they weren't all thwarted. The American people are getting left with the inaccurate impression of the effectiveness of NSA programs."
ProPublica breaks down the numbers, here.