Welcome to "Moving Image," our roundup of the best photos from around the world this week.
The following images tell the story of the past seven days' most compelling events, capturing happenstance moments and monumental occurrences all over the globe.
Our picks for this week are:
1. This image of a goose in Palestine. In this Thursday, Sept. 12, 2013 photo, Rafah Alwadiya, 13, throws a goose in the air at his family house in Gaza City. The home of the extended Alwadiya family consists of a kitchen, several small bedrooms and an empty space devoted to cages full of pigeons and other birds.
2. This snapshot of the South Korean Air Force. Members of a South Korean Air Force honor guard throw their guns in the air during a press day of an air show as part of the Seoul International Aerospace & Defense Exhibition which will be held from Oct. 25 to Nov. 3, at Cheongju International Airport in Cheongju, south of Seoul, South Korea, Thursday, Oct. 24, 2013.
3. This elephant in Sri Lanka. A Sri Lankan elephant walks on a new expressway linking the capital to the main international airport in Katunayake near Colombo on October 24, 2013. Twenty-four elephants lined up at Sri Lanka's newest expressway for a race to open the road, but ambled along instead after organisers scrapped the event over safety concerns.
4. This model in Indonesia. A model displays a creation by Indonesian designer Feny Mustafa during the Jakarta Fashion Week in Jakarta, Indonesia, Tuesday, Oct. 22, 2013.
5. This mother-child duo in China. In a photo taken on October 22, 2013 a woman and child walk across a bridge in a park in Fuzhou, Fujian province. Fuzhou is the capital of China's south-eastern Fujian province.
6. This image of a protest clash in Bahrain. A Bahraini protester runs away from tear gas and bird shot fired by riot police during clashes following the funeral of Ali Khalil Sabbagh in the village of Bani Jamrah, west of Manama, on October 23, 2013. Sabbagh, 17, died when a bomb that he was making blew up, Bahraini police said.
7. This rhino in South Africa. A rhino at the Pilanesberg Game Reserve on October 23, 2013, in Pilanesberg, South Africa. Rhino were tagged and DNA collected to form part of the park's anti-rhino poaching initiative. The project is sponsored by the SAB Boucher foundation.
8. This abstract construction scene in Greece. A worker carries a metal frame as he walks on a scaffolding in central Athens, on Thursday, Oct. 24, 2013. Greece's largest labor union has called a new general strike for Nov. 6, in its latest attempt to halt spending cuts imposed as part of Greece's 240 billion-euro ($325 billion) bailout agreements.
9. These clowns in Mexico. In this Monday, Oct. 21, 2013 photo, clowns sit on a couch during a break on the first day of the 17th International Clown Convention at a theater in Mexico City. Clowns from Latin America gathered in Mexico City to enter competitions, exchange experiences and take workshops in order to brush up on their clown techniques.
10. This scene in Madagascar. A woman feeds her baby at their home in the city of Antananarivo, Madagascar, Thursday, Oct. 24, 2013. Madagascar will hold elections on Friday that organizers hope will end political tensions that erupted in a 2009 coup and help lift the aid-dependent country out of poverty.
11. This harrowing scene in Nevada. A Sparks Middle School student cries and is comforted after being released from Agnes Risley Elementary School, where some students were evacuated to after a shooting at SMS in Sparks, Nev. on Monday, October 21, 2013 in Sparks, Nev.
12. These baskets of salt crystals in Indonesia. Workers carry baskets of salt crystals as they harvest the solar salt from ponds filled with sea water on October 19, 2013 in Madura, Indonesia. Salt harvesters have seen an increase in production as a result of the 10 month drought.
13. This female fighter on the border of Turkey and Iraq. A female fighter of the Kurdish of the Committees for the Protection of the Kurdish People (YPG) looks through binoculars behind a fortified wall as she checks for activities by Jabat al-Nusra opposition with a fellow comrade on October 20, 2013 in the Kurdish town of Derik (al-Malikiyah in Arabic), in the northeastern Hasakeh governorate on the border with Turkey and Iraq.
14. This lifeguard in Mexico. A lifeguard stands in the beach on October 22, 2013 in Acapulco, state of Guerrero, Mexico. Hurricane Raymond -- Category Three force on the five-level Saffir-Simpson scale -- swirled off Mexico's Pacific coast, forcing schools to close and more than 1,000 people to leave homes in a region reeling from recent deadly floods and landslides.
15. This illuminated pond.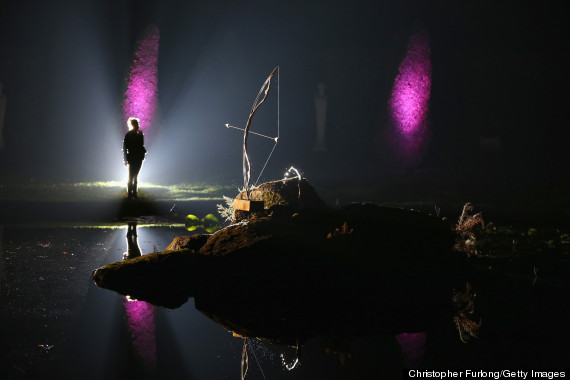 A member of staff views the illuminated Ring Pond in the grounds of Chatsworth stately home as it is lit up as part of the Luminaire event at Chatsworth House on October 24, 2013 in Chatsworth, England. The house and various features in the gardens are to be illuminated telling the story of the lunar cycle from October 26 to 30. The projections and light show are inspired by the famous painting of Duchess Georgiana as Diana, Goddess of the Moon. Luminaire will be the first time the house and garden has been displayed in this way for 170 years. It was last illuminated for the visit of Queen Victoria and Prince Albert in 1843.
Let us know your favorite photos in the comments section and check back next week to see new images.
This story appears in Issue 72 of our weekly iPad magazine, Huffington, in the iTunes App store, available Friday, Oct. 25.
PHOTO GALLERY
Moving Image 2013: The Year's Best Photos