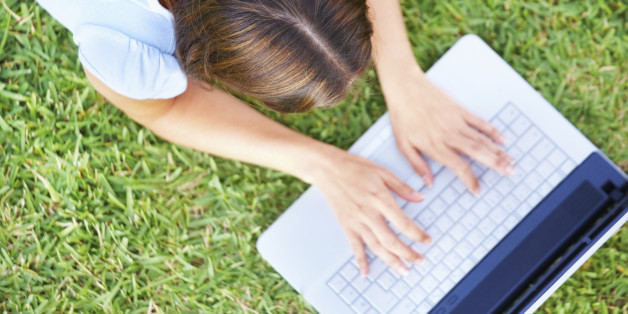 Readers: Get ready for "C*nt Punt," the novel.
Rebecca Martinson, otherwise known as the "deranged sorority girl" from the University of Maryland whose colorful email to sorority sisters won her internet fame before leading to her resignation from Delta Gamma, is writing a novel and is shopping around for a publisher, according to The New Republic.
TNR reports that Martinson has joined forces with the team behind the website White Girl Problems for this endeavor. The Baltimore Sun reached out to Martinson to find out more, but got no response. HuffPost's attempts at outreach have also proved fruitless.
What we do know: this gal has a gift for language. Recall these well-turned phrases from the infamous original email:
"Tie yourself down to whatever chair you're sitting in, because this email is going to be a rough f**king ride."
"I will f**king c*nt punt the next person I hear about doing something like that"
"I swear to f**king God if I see anyone being a goddamn boner at tonight's event, I will tell you to leave even if you're sober."
"And for those of you who are offended at this email, I would apologize but I really don't give a f**k."
Martinson has also been writing for the website BroBible, where she continues not to be a goddamn boner in such sex-positive (no seriously -- well, sort of?) columns as "Why All Girls Secretly Want to Have a Threesome" and "Sticking It In Her Butt Without Backlash: A Three-Point Guide."
Washington Post columnist Petula Dvorak laments Martinson's literary aspirations:
Malala Yousafzai should have a book.

Rebecca Martinson should not.

That's really all there is to say about this.
First of all, Yousafzai, a teenaged education activist from Pakistan, does have a book -- the memoir was described as "riveting" in the Post a couple of weeks ago.
But also, novels and first-person nonfiction are, of course, different animals. Additionally, we suggest you head to Gawker to read the whole deranged email that got all this started, and read the BroBible columns here, then tell us you don't think Martinson would write one hell of a fun piece of fiction. Or don't. We really don't give a f**k.
BEFORE YOU GO
PHOTO GALLERY
Frats Behaving Badly