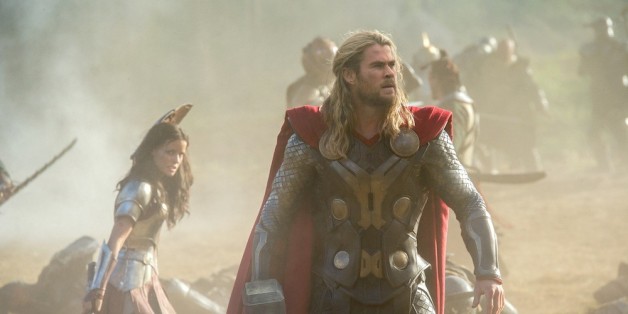 As has become custom with Marvel superhero movies, "Thor: The Dark World" includes a mid-credits sequence that teases an upcoming film from the comic book giant. Not that "Thor" director Alan Taylor was completely thrilled about its inclusion.
Warning: Spoilers ahead for "Thor: The Dark World.
"I am very happy to not take responsibility," Taylor told Bleeding Cool when asked about the scene, which teases the upcoming Marvel film "Guardians of the Galaxy." While Taylor wouldn't confirm that the sequence was filmed by "Guardians" director James Gunn, Marvel head Kevin Feige told the site that it was, in fact, Gunn who filmed that scene.
"It's a different tone," Taylor said of the tease. "I would have shot it differently. But I think it's cool that it reaches out and touches that other universe. That universe is coming. The 'Guardians' universe is really cool and wacky ... but that sequence in the credits, I would say, is the only part of the movie where I'm happy to give the credit away."
Taylor's honesty about working with Marvel on "Thor: The Dark World" has been quite refreshing over the last few months. Speaking with Collider at the Disney D23 fan expo in August, Taylor explained the collaboration during production that happens between Marvel and the studio's directors.
"They seem to have a process where you make the movie, they sort of assess what they've got, and then they're totally open to rewriting, even after production. They sort of reserve time and money for that," he said. "They sort of find the movie through that process. It's hard to get used to, because that's not where I came from, but watching them, they are really good at what they do."
"Thor: The Dark World" is out in theaters on Nov. 8. Check back to HuffPost Entertainment next week for our full interview with Taylor.
[via Bleeding Cool]
PHOTO GALLERY
BEFORE YOU GO
Celebrity News & Photos
PHOTO GALLERY
Celebrity News & Photos