Phoenix police investigating a double homicide are searching for a suspect who killed a young couple as they slept.
According to KPHO, Hector Taner Karaca, 24, was released from prison just six weeks ago. On Monday night, police say Karaca shot Kristen Bianca Furgeri, 17, and her boyfriend Jose Alonso Villa, 25 as they slept.
"We're still trying to put together who or what the relationship might be between the suspect and the two victims," Sgt. Trent Crump told KPHO. Friends of the slain man told the station that the suspect knew Villa.
Neighbors told officers they heard muffled gunshots. Police say Karaca killed the young couple as they slept in a small house behind where Villa's parents live, then stole Villa's car and fled the scene.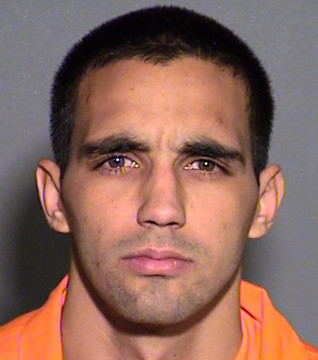 Hector Karaca, 24, is wanted in connection with the shooting deaths of Fugeri and Villa.
"He's just a coward. He's a horrible person. He's a monster. He needs to be put behind bars. He needs to be put away for life," Yolanda Munguia, Furgeri's sister, said in a separate KPHO report.
The charred remains of the white Hyundai belonging to Villa were found on Tuesday. Karaca is still on the loose, and considered armed and dangerous, police told ABC 15.
Karaca is described as 6 feet tall, 175 pounds with black hair. He has numerous tattoos, including "South" and "Side" on his forearms, "Tucson" across his back, smile now-cry later clowns on his left chest and "Chavez" across his stomach.
Karaca has a lengthy criminal history. According to the Phoenix New Times, Karaca had just done three years for stealing cars.
In 2006, the Arizona Daily Star reported that Karaca was involved in a burglary that left a convenience store employee dead. At the time, the newspaper reported that the suspect, then 17, first got in trouble with the law when he was 12, after he broke into a house and stole various items.

BEFORE YOU GO
PHOTO GALLERY
10 Major Crimes That Shocked America (SLIDESHOW)