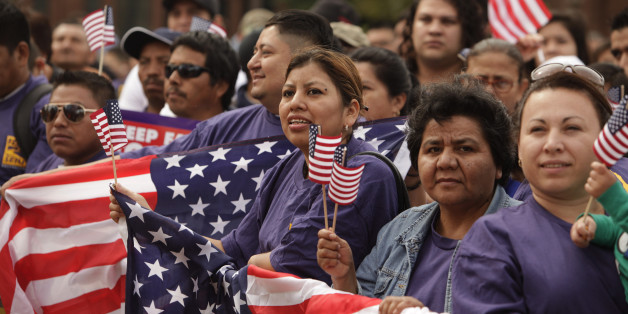 WASHINGTON -- Immigration reform advocates said they're annoyed at the glut of news articles in the past week suggesting comprehensive reform is dead. They insist reform can still happen in the House, and they'll fight until it does.
"We're not giving up," Greisa Martinez, an organizer with undocumented immigrant advocacy group United We Dream, told reporters on a press call. "We are in 30 days of sustained action and escalation across the country. We are mobilizing in D.C. We're keeping the issue alive. So I wouldn't want us to prematurely declare this issue dead, because our community and our movement still has a lot of fight left this year."
Still, there is cause for concern. It appears increasingly unlikely -- or maybe impossible -- that the House will vote on immigration reform legislation by the end of the year, before Congress enters a midterm election year.
The Senate passed a comprehensive reform bill months ago, but House GOP leaders have vowed not to touch it without majority Republican support. There are less than 20 days left in the legislative calendar, even though there are more than two months left in the year, and many of those will be consumed by fights over the budget. Bills that have been expected proposing legalization for undocumented immigrants from Rep. Darrell Issa (R-Calif.) and for undocumented young people from Majority Leader Eric Cantor (R-Va.) and Judiciary Committee Chairman Bob Goodlatte (R-Va.), have yet to be released, much less clear the necessary committees. Further, it's unclear whether Democrats will support those bills, since they want a more comprehensive approach and have offered their own proposals with significant Democratic backing.
The long odds haven't daunted reform advocates. Nearly 600 supporters of reform will be in Washington next week for an event sponsored by the Partnership for a New American Economy, the Bibles, Badges and Business for Immigration Reform network, FWD.us, and the U.S. Chamber of Commerce, according to organizers. United We Dream began its 30-day "escalation" of activism for reform this week, with vigils, marches and visits to congressional offices. Reform advocates are taking direct action against deportations -- and defying the Obama administration -- by blocking buses tranferring undocumented immigrants for deportation.
Advocacy group PICO National Network will knock on doors in nine congressional districts with high Latino populations, including those represented by Reps. Jeff Denham (R-Calif.), David Valadao (R-Calif.), Mike Coffman (R-Colo.) and Joe Heck (R-Nev.).
"We're very much focused on the next two months, and we believe that we're going to get a legislative solution," Rich Morales, detention prevention coordinator at the PICO National Network, said on the call. "But our efforts due to civic engagement over the next two months, and we're going to knock on a lot of doors, is to remind these nine members that they're vulnerable, and if there isn't any action this year, we're definitely going to be around next year."
House Speaker John Boehner (R-Ohio) said Wednesday he thinks reform could be accomplished this year, but made no promises.
"I still think immigration reform is an important subject that needs to be addressed. And I'm hopeful," Boehner told reporters.
Lynn Tramonte, deputy director of advocacy group America's Voice, noted on the call with reporters that some bills have already passed House committees -- although her organization does not support those specific measures -- and it's up to GOP leaders to bring them and other legislation for a vote.
"They have time to do this if they want to do it -- that's the point," Tramonte said. "They do have time on the calendar left to bring immigration bills to the floor. ... It's really a question of do they want to get it done or not. If they do, they'll put some bills out there, schedule a time for a floor debate and have a vote."
President Barack Obama said in a speech on Thursday that there was still time for immigration reform, and made it clear that he and other supporters would lay the blame on House Republicans if it doesn't happen.
"If House Republicans have new and different additional ideas for how we should move forward, then we want to hear them," Obama said. "I'll be listening. ... But what we can't do is just sweep the problem under the rug one more time."
Obama cautioned against assuming immigration reform won't happen this year.
"There are going to be moments -- there are always moments like this in big efforts at reform -- where you meet resistance and the press will declare something dead, 'It's not going to happen,' but that can be overcome," he said in his speech to supporters, joined by Vice President Joe Biden. "And I have to say, Joe, as I look out at this room, these don't look like people who are easily deterred. They don't look like folks who are going to give up."
BEFORE YOU GO
PHOTO GALLERY
Controversial Immigration Laws