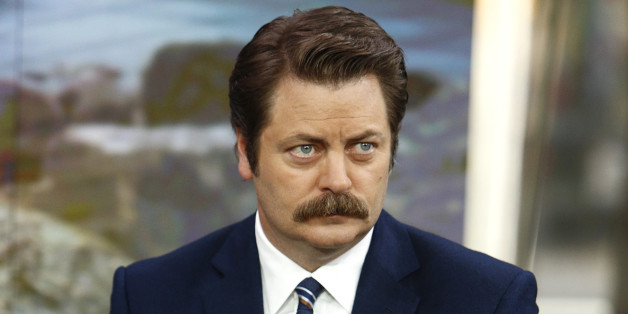 Joe Frescura can remember when he and his middle school friend Nick fought each other in their junior high play.
"They were supposed to be pretending to fight, but they were really throwing punches, you know, to show the audience they were real he-men," remembers Joe's mother, Pat Frescura.
That middle school friend grew up to be Nick Offerman. Now, that childhood story has been immortalized on page 55 of Offerman's new book, "Paddle Your Own Canoe: One Man's Fundamentals for Delicious Living."
"I had no idea it was going to be in there," said Joe as he held a copy of the book.
Frescura was one of several Minooka natives who came to Offerman's book signing Thursday. Offerman -- best known for his role as Ron Swanson on the NBC television show "Parks and Recreation" -- signed copies of his new book at Minooka Elementary School, where Offerman began his schooling.
"I haven't been here since about 1986," Offerman said to a packed gymnasium. "I think this gym used to be the playground, so I've probably urinated here."
He was welcomed by a crowd of roughly 800 fans, many of whom knew Offerman when he was still a Minooka farm boy.
"I think this was about the population of Minooka when I lived here," Offerman
joked. "So I will take this as a compliment. Thank you."
The night began with an introduction from Rick Offerman, Offerman's father, thanking those in attendance and poking fun at his son.
"Nick's family or those who know him are scratching their heads thinking, 'He really wrote a book,' " Rick Offerman joked.
The television star was welcomed by former teachers, classmates, friends and neighbors as he strode to the small stage wearing an American flag button-up shirt and holding an acoustic guitar.
Charlene Johnson was one such friend. Johnson has known Offerman since childhood when her daughter Janet used to baby-sat him and his siblings.
Johnson and her husband are longtime friends of the Offerman family.
They even attended Offerman's wedding reception when he married actress Megan Mullally, Johnson said.
"I watch his television show and really like it," Johnson said. "I'm excited to see him coming back to Minooka."
Police guided a line of cars to parking as people from all across the area trickled into Minooka Elementary.
The event was so popular that organizers at Three Rivers Public Library and Anderson's Bookshop had to set up an online ticket ordering system through Anderson's website.
"We presold about 450 copies of the book," said Beck Anderson, owner of Anderson's Bookshop. "But we're expecting many more copies to be sold at the signing."
One of the instrumental organizers was Offerman's sister, Laurie, who is the assistant director of the Three Rivers Public Library.
"I owe a lot of my success to a lot of people in this room," Offerman said. ___
BEFORE YOU GO