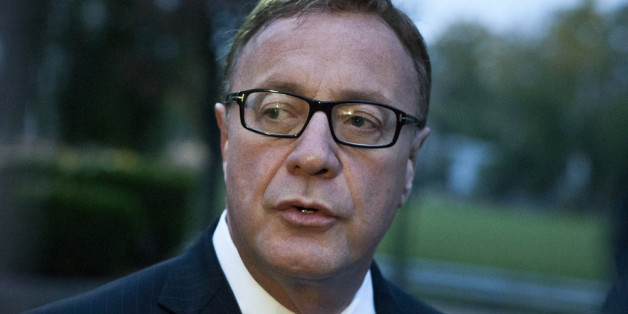 You guys remember Steve Lonegan? Seems like only a week or so ago that the three-term Mayor of Bogota, N.J., was losing what most rational observers thought was bound to be a fruitless contest against Newark Mayor Cory Booker for New Jersey's open Senate seat. Now, with the race behind him, Lonegan has got bills to pay -- and in an email to supporters, he's lashing out at everyone who promised to help but didn't, leaving him with debts that he's struggling to pay off.
It's been just over a week since the campaign has ended and bills keep coming in, but all the help I was supposed to get from conservatives and Republicans across the country hasn't.

Our campaign not only ran four points ahead of Mitt Romney's showing in this state (Romney would have won if he had run four points better!), but we carried nine counties and all six congressional districts with Republicans.

It was a victory for our ideas, and a message that Republicans can take back our country if we stand up for what we believe.

I did, and now I'm facing a lot of bills that I thought we'd be able to pay, but I can't. And I can't because groups like the Republican National Committee and the National Republican Senatorial Committee sat on their hands while you and I struggled to make this race competitive.
And it's not just the RNC and the NRSC that are apparently to blame for the fact that long-shot Senate campaigns are not free, as it turns out. Lonegan also blasts the Senate Conservatives Fund, saying that the group didn't adequately "acknowledge [his] candidacy," and complains that during that time, the SCF spent "hundreds of thousands of dollars attacking Republican Senators who aren't even running until 2016 or 2018."
He also accuses the NRSC of soliciting funds on his behalf, but never ponying up the scratch. Lonegan tells his supporters today that in the waning days of the campaign, the NRSC sent out an email donation solicitation, asking people to specifically support Lonegan's campaign.
The email solicitation part is true. In a Sept. 27 email titled "Strippers. Corruption. And Abandoned Homes," NRSC Press Secretary Brook Hougesen writes that the "Senate race in New Jersey is tightening," and that "[w]e can win in New Jersey and in 2014 Senate races across the country, but only if supporters like you step up today." The email asks donors to "contribute $100, $50, $25, or whatever you can afford today to help us win in New Jersey and take back the majority in 2014."
"But they kept every penny," writes Lonegan.
A GOP source familiar with Lonegan's campaign disputes the claim that the NRSC "kept every penny," saying that the "NRSC was more active [in the New Jersey special election] than any other group," including Heritage Action, Americans For Prosperity, and the Senate Conservatives Fund, and that the NRSC "spent what we raised."
The Lonegan camp has a bit of a history with the NRSC. Back on Oct. 4, Lonegan strategist Rick Shaftan spent part of his day bashing the organization on Twitter:
@IshYimini @NRSC Who?

— Rick Shaftan (@Shaftan) October 4, 2013
@IshYimini Who is this @NRSC you talk about?

— Rick Shaftan (@Shaftan) October 4, 2013
@IshYimini @NRSC @GomezForMA We expect to see them show up around 10/17.

— Rick Shaftan (@Shaftan) October 4, 2013
@IshYimini @NRSC @Reince @CoryBooker @baseballcrank There'll be a housecleaning on 10/17.

— Rick Shaftan (@Shaftan) October 4, 2013
Now, Lonegan says he's been "left holding the bag" after his campaign. Apparently, it's a bag that needs to be holding $68,000 to pay these bills Lonegan presumed he'd be getting some assistance in paying. Of course, in previous emails, Lonegan claimed to be "within just 3 points of winning," so maybe he needs to double-check his math?
Jen Bendery contributed reporting.
[Would you like to follow me on Twitter? Because why not?]
BEFORE YOU GO
PHOTO GALLERY
Conservatives Pointing Fingers