This article is the second in a six-part series about the drug war and police reform. Read Part 1 here.
OGDEN, Utah -- Former Sheriff William "Dub" Lawrence has watched with dismay as America's war on drugs has escalated, and SWAT teams have become more aggressive, more militarized, and less focused on resolving disputes peacefully.
"SWAT teams have been infiltrated by bullies with badges and guns who foster a mentality that killing criminals reduces recidivism," he says. "We're on the wrong track. I look at what's happened to law enforcement today, and I'm ashamed and heartbroken by what I see. We've lost sight of what's important. We've lost sight of what the job should be about, which is protecting the constitutional rights of the people."
In 1975, Lawrence started what would become the Davis County, Utah, SWAT team. The elite tactical units were coming into vogue across the country at the time, after they were introduced in Los Angeles in the 1960s, following the Watts riots and a number of mass shooting incidents.
"We saw what was happening in Los Angeles at the time," says Lawrence, 69. "We thought we needed something similar if we ever had to face down a shooter, or someone who had taken hostages."
Lawrence was choosy about who he put on the SWAT team. "You have to pick guys who have the right mentality, the right temperament, and who show good judgment," he says. "I finally found four guys I could trust, and we went about training them."
In September 2008, however, he watched helplessly as the same SWAT team he helped create over 30 years earlier shot and killed Brian Wood, his 36-year-old son-in-law.
Wood had a history of psychological problems, and he had barricaded himself in his truck with a gun following a domestic dispute. After a 12-hour standoff with police, the SWAT team moved in and shot Wood eight times with a stun gun before finally shooting him as he lay on the ground, an outcome Lawrence criticizes as an overreaction.
"I told my family, I said, 'These guys are well-trained. You can trust them to talk him down,'" Lawrence recalls. "I then had to explain to my daughter why this team I helped create -- had just told her to trust -- had just killed her husband."
Since then, Lawrence has become a leader of Utah's growing police reform movement. He's served as a consultant to the victims of a number of police incidents in the state, including the family of Matthew David Stewart, who was arrested in a botched raid on his house in 2011 after being suspected of growing marijuana in his basement. The raid claimed the life of a police officer, and Stewart, an Army veteran, later hanged himself in jail.
Lawrence is also crafting legislation, together with activists Jesse Fruhwirth and Connor Boyack, restricting the use of SWAT teams, and he's working to reach out to police groups and sell reform to the public.
"What you see in all of these cases -- the common denominator -- is that the police describe the incidents in the precise language they've been taught to use so that the shootings will hold up in court, and to indemnify them and their departments from any liability," Lawrence says. "They've been trained to use force, they've been trained to cover up their mistakes, but there's just no training on how to avoid force and violence."
Lawrence got his start in policing in 1971. He'd just served two years in the Marines, had recently married, and was attending Brigham Young University, when a neighbor -- who also happened to be the police chief in the town of Bountiful -- told him about an opening in his department and encouraged him to apply. Lawrence did, got the job, and switched his focus from business classes to justice administration.
In 1974, he was hired to perform executive security for the Mormon Church. Shortly thereafter, he saw that the Republican sheriff of Davis County was running unopposed. Despite having logged just three and a half years as a cop, Lawrence filed papers to run as a Democrat in 1976. He surprised everyone when he won.
Lawrence says his tenure as sheriff didn't win him many friends. In addition to the SWAT team, he established a paramedic unit within the police department, which didn't sit well with the fire department. Lawrence also disbanded the police department's anti-narcotics unit, which he says took up too many resources and placed too high a priority on drug enforcement.
"The drug unit was also allowed to break the law in order to enforce it [by buying drugs undercover, or with informants]. I didn't like that. I thought it gave guys the wrong impression -- that they were above the law," he says.
He also made a number of high-profile arrests of public officials (including the superintendent of the highway patrol at the time, who was arrested on a DWI charge) and refused to let them off.
Lawrence says that his philosophy -- that the law applies equally to everyone -- is the reason he only served for one term. Ultimately, he says, he had made too many enemies, and he lost his bid for reelection in 1978.
Since then, Lawrence has continued to dabble in politics, winning a campaign for county commissioner in 1988 and even running for Congress and the U.S. Senate. Today he is officially retired, but policing remains his passion.
"I think my relatively short tenure as a cop before running for sheriff was a blessing," he says, looking back. "I hadn't yet become entrenched in the culture. So when I took office, I could see the things that needed fixing."
* * * * *
The Weber-Morgan County Narcotics Strike Force began in Utah in 1988 with a grant from the Edward Byrne Memorial Justice Assistance Program, a federal program named for a New York City police officer killed by a drug dealer. Over the last 25 years, hundreds of similar units have sprung up all over the country as America's war on drugs has escalated.
These task forces have been involved in a multitude of scandals involving mistaken raids, shootings, corruption and abuse of force. Just four months before raiding Matthew David Stewart's home in Ogden, Utah, the Weber-Morgan team shot and killed 45-year-old Todd Blair during a drug raid in the town of Roy.
Blair was a meth user, but the police were actually investigating his roommate for distribution. As the strike force broke in, Blair emerged from his bedroom wielding a golf club, and an officer shot him dead. As with the Stewart raid, the officers were cleared of any wrongdoing.
Critics say that because task forces span jurisdictions, and can be mostly or entirely funded through federal grants and asset forfeiture, there isn't enough local supervision and accountability.
In 2009, the Justice Department attempted to conduct a nationwide study of the Edward Byrne program's effectiveness. "Not only were data insufficient to estimate what task forces accomplished," the report stated, "data were inadequate to even tell what the task forces did for routine work."
The George W. Bush administration had begun phasing out the program. But in 2009, the Barack Obama administration refunded it at record levels. Today, across most of the country, the task forces are as busy as ever.
The Weber-Morgan County Strike Force is no exception. According to an investigation by the Standard-Examiner, the unit served 120 search warrants in 2012, double the number it served in 2007.
The task force program is just one initiative leading to the increasing militarization of today's police forces. In Utah, for example, between task forces, sheriff's departments, police departments, state police and federal agencies, many residents are covered by a half dozen or more separate SWAT teams. In Ogden alone, in addition to the Weber-Morgan County Strike Force, the Ogden Police Department also has a separate SWAT team, as does the Weber County Sheriff's Department.
Other towns in the area have their own SWAT teams as well, even when such tactical units would seem to be largely unnecessary. Logan, a city of 50,000 about 50 miles north of Ogden, has had a SWAT team since the 1980s. As of 2011, however, Logan hadn't seen a murder in five years. Morgan Quitno, the publisher that measures and ranks cities on crime, living standards and other criteria, has named it the "safest city in America" twice, in 2005 and 2007.
Though police officials typically point to things like mass shootings and terrorist incidents to justify the existence of SWAT teams, Logan's police chief told the local Daily Herald in 2006, "We haven't really had a whole lot of barricaded subjects, and certainly we haven't had an active shooter."
Instead, he said, the SWAT team has been used mostly to serve search warrants on people suspected of drug-related crimes -- the primary use today of SWAT teams around the country.
"We've destroyed some doors over the years that maybe wouldn't have gotten destroyed if there wasn't a SWAT team," the police chief said, "but it's all in the name of trying to make a high-risk situation safer for everyone."
* * * * *
Critics like Lawrence, however, say that SWAT team raids can actually trigger violence, rather than avoid it.
"I would question the notion that these raids are safer for police," Lawrence says. "But especially for the suspects, and any friends or family inside a house that gets raided, it would much safer to arrest someone as they're leaving or coming home than to break in at night with guns. There's no question about that."
Matthew David Stewart's sister-in-law argues that the raid on his house was unnecessary. "Why did they have to raid him at night with a battering ram in the first place?" Erna Stewart asks. "Why couldn't they have just arrested him as he was coming or going to work?"
The Stewart raid has inspired some national law-enforcement figures to question the pervasive use of home invasions to serve search warrants. In January 2012, Pat McCarthy, who trains and advises police agencies across the country, told USA Today, "It's time to change our thinking. Cops are exposing themselves to increasing danger many times over, and it's just not necessary. ... The days of knocking down doors in drug cases should be over. Given what's going on now, you have to consider other options." Like Lawrence, he suggested waiting for a suspect to leave the house -- or luring him out.
A Justice Department review found that of the 68 police officers killed by firearms in 2011, 10 were killed while serving search warrants.
But police and public officials in Ogden took decidedly different lessons away from the incident. Utah-based DEA Special Agent in Charge Frank Smith told a local news station that police should get more aggressive with drug suspects.
"It's a public safety issue," Smith said. "If someone is willing to shoot it out with police … what's to say he's not willing to walk out [of] his house and start shooting his neighbors?"
Weber County officials likewise concluded that the moral of the Stewart story was not to use less force against drug suspects, but more. "Police here are armoring up like never before," the Standard-Examiner reported in August, noting that police agencies across Weber County had united to form the Tactical Operations Group, a sort of standby SWAT team ready to act if the other SWAT teams serving the county weren't available.
Weber County Attorney Dee Smith enthusiastically endorsed what he called "breach" raids, "even for property crimes." Smith even trained with the Tactical Operations Group in order to show his support, kicking in doors and brandishing a firearm with plastic bullets.
Meanwhile, awards have poured in for the cops who raided Stewart's home, reinforcing the notion that there's no reason to question their tactics. In January, the commander of the task force, Darin Parke, was promoted to police chief for the town of South Ogden. In March, the National Law Enforcement Officers Memorial Fund named Sgt. Nate Hutchinson, who was wounded during the raid, "Officer of the Month." Another law enforcement group selected the entire task force for its "Outstanding Law Enforcement Officer of the Year" Award. The task force was also honored as part of the U.S. Air Force Hometown Heroes program.
Lawrence's concerns about the direction policing is headed have been mounting for years, but he says his son-in-law's death turned him into an activist. Since the Stewart raid, he has come to believe that local policing is in a state of crisis.
"When the police are forced to shoot at someone over some pot plants -- when a cop is dead because of marijuana -- something has gone wrong," he says. "It's a failure of policy. It would help both law enforcement and the community for us to understand what factually occurred, and not just buy into the police account.
"We need to learn from these cases so we can make policy recommendations that will prevent them from happening again," he continues. "But there's no desire to do that. The objective is to clear the officers as quickly as possible, protect everyone from liability, and then move on to the next drug raid. And that terrifies me."
Continue to Part 3: Meet The Activist Who's Bringing Conservatives On Board The Police Reform Movement
HuffPost writer and investigative reporter Radley Balko is also the author of the new book Rise of the Warrior Cop: The Militarization of America's Police Forces.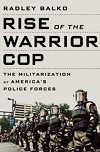 BEFORE YOU GO
PHOTO GALLERY
27 Reasons Why U.S. Shouldn't Lead War On Drugs