 Polls leave little suspense about the New York City Mayor's race. In Boston, there's yet another odd twist (or two) to one candidate's internal polls. And there's more to congressional polarization than first meets the eye. This is HuffPollster for Monday, October 28, 2013.
DE BLASIO STILL LEADS 'OVERWHELMINGLY' - Siena: "One week until Election Day and Democrat Public Advocate Bill de Blasio continues to hold an overwhelming 45-point lead over Republican Joe Lhota, 68-23 percent, little changed from 68-19 percent three weeks ago, according to The New York Times/Siena College Poll of likely voters released today. De Blasio is viewed favorably by 62 percent of likely voters and unfavorably by 22 percent (from 58-19 percent October 4), with 13 percent having not heard enough about him to have an opinion. Lhota has a negative 25-46 percent favorability rating (compared to 22-36 percent October 4), with 27 percent not having an opinion." [Siena]
Comparable to other polls - The poll tracking model used in the HuffPollster chart, based on all public polls, estimates that DeBlasio leads Lhota by a 69.7 to 23.4 percent margin, nearly identical to the Times/Siena poll. [Pollster chart]
BOSTON: INTERNAL POLL SHOWS CLOSE RACE - Andrew Ryan: "Speaking to roughly 50 people in a conference room near TD Garden, Connolly said his campaign's last three days of polling found a tie, with each candidate standing at 43 percent and with 14 percent of poll respondents remaining undecided. 'It's a statistical dead heat,' Connolly told the group as he clicked through slides on a PowerPoint presentation...Connolly's polling data came from the campaign's tracking poll, which contacts 200 people each day, Connolly said. In the last three days, Connolly said he came out on top twice, and Walsh was ahead once. The findings differed significantly from a Globe poll last week that found Connolly leading by 8 percentage points. That poll, by the University of New Hampshire Survey Center, found that 44 percent of likely voters responding to the poll said they backed Connolly, while 36 percent said they supported [Martin] Walsh. Connolly described the Globe poll as an outlier and said his data were closer to an earlier survey by the MassINC Polling Group, which showed Connolly clinging to a small lead, at 41 percent to 39 percent." [Globe]
At least two things are unusual about this story - First, yes, you read that right: A candidate shared results showing that results that are more pessimistic about his current standing than the public polling, all of which has shown him leading. Second, as summarized in Friday's HuffPollster, the Globe previously reported on accusations that Connolly's internal polling was used to "propagate negative information" about his opponent, Martin Walsh. Actually, Walsh went further and called it "push poll," although the Globe's original story makes a strong case that the controversial questions were instead part of campaign message testing (respondents to the Globe said they had been called by an interviewing facility used previously by Connolly's pollster, Anderson Robbins Research). [HuffPollster, Globe, YouTube]
Latest Connolly poll not included in Pollster chart - The Globe report did not provide sufficient methodological information about the latest internal poll to merit inclusion in the pollster chart, and the Connolly campaign declined to comment further about their internal polling. [Pollster chart]
THE DISAPPEARING CONGRESSIONAL MIDDLE - The Washington Post's Chris Cillizza borrows a chart produced by Republican pollster Bill McInturff "to illustrate the decline and near-disappearance of the political middle over the past three decades." Cillizza explains: "[I]n 1982 the centrists — or at least those who by voting record were somewhere near the middle of their respective parties — comprised 79 percent of the House. In 2012 they made up 2.5 percent of the House. So, yeah. There are any number of reasons for this disappearance — partisan gerrymandering and closed primaries being the two most obvious — but the numbers are unbelievably stark, particularly when you consider that roughly 30 percent of the electorate consider themselves political independents. (According to exit polling, 29 percent of people named themselves independents in the 2008 and 2012 presidential elections.) [WaPost]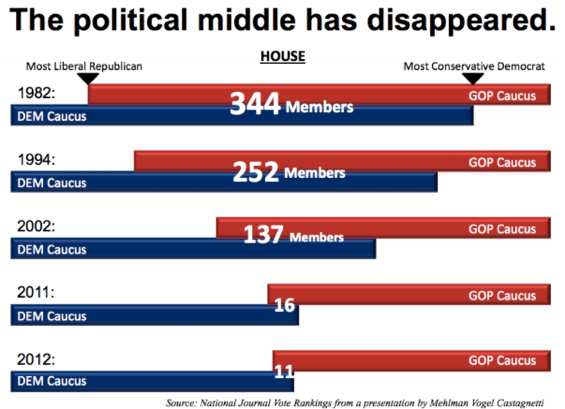 Not so fast... - Cillizza's explanation for the decline drew a quick rebuttal of sorts from John Sides, the GWU political scientist who also writes for the Post via his Monkey Cage blog: "Three quick points on this @TheFix post about the disappearing middle...1) @TheFix cites gerrymandering. Likely a small factor at best [link]...2) .@TheFix cites closed primaries. But not much evidence that primaries drive polarization either [link]... 3) @TheFix cites the 30% of the electorate that are independents. But most independents aren't independent [link]...Ultimately, the polarization that @TheFix describes is rooted in big structural shifts in American politics. See [link]. [@MonkeyCageBlog]
HUFFPOLLSTER VIA EMAIL! - You can receive this daily update every weekday via email! Just enter your email address in the box on the upper right corner of this page, and click "sign up." That's all there is to it (and you can unsubscribe anytime).
MONDAY'S 'OUTLIERS' - Links to more news at the intersection of polling, politics and political data:
-Americans over 50 like their jobs. [AP]
-54 percent of adults who use the internet have posted photos or videos online that they created themselves. [Pew Internet]
-Young Americans who came of age during the Obama presidency express more favorable views toward blacks than every previous generation. [WaPost's Monkey Cage]
-Married Americans spend more than their unmarried counterparts. [Gallup]
-60 percent of gun owners cite personal safety and protection as the most important reason for ownership. [Gallup]
-A Montana poll shows more support than opposition for gay marriage. [Billings Gazette via Polling Report]
-Reid Wilson shares five charts showing how Terry McAuliffe is "massively" outspending Ken Cuccinelli in Virginia. [WaPost]
-Andrew Gelman sees Republicans on track to retain control of the House in 2014. [Monkey Cage]
-Obama campaign data crunchers apply voter targeting techniques in the Virginia governor's race. [WSJ]
-Must-watch: Yann Pineill and Nicolas Lefaucheux demonstrate the beauty of mathematics. [Vimeo via FlowingData]
-The Onion has some suggestions for Congress to improve their dismal approval rating. [The Onion]