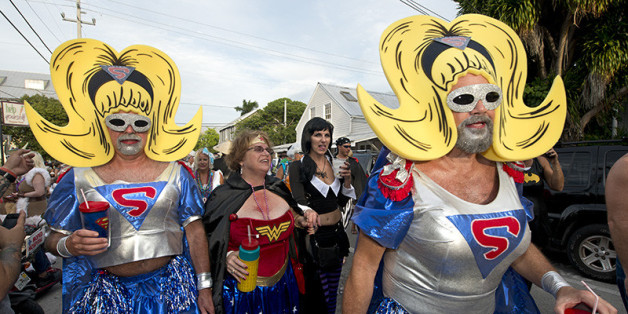 "Everyone behaves badly -- given the chance," longtime Florida Keys resident Ernest Hemmingway wrote in "The Sun Also Rises."
So when it came time for this year's Fantasy Fest, the annual 10-day costume festival in the Keys, participants had to be discouraged from taking their masked merriment too far.
"Despite the widely held perception about Fantasy Fest, public nudity is prohibited," warned an advisory on Keysnet. "Body paint must be applied in an enclosed area, out of public view and while it should go without saying, public sex acts are off limits."
But that didn't hamper the fun of the nearly 60,000 revelers who came out to watch Saturday's parade through Old Town.
This year the theme was "Super Heroes, Villains… & Beyond" with Diana Nyad, who recently swam from Cuba to Key West, as Grand Marshall.
Highlights included a troupe of Wonder Women who "battled evildoers" during a spirited dance number, reports the Florida Keys News Bureau, as well as a float featuring Batman rising 40 feet above the crowds to hover protectively over "Gotham City."
There was also a "Jaws" spoof starring women in gauzy silver costumes portraying sharks, a scaly green "dragon" that towered above the crowd and a flock of men sporting fluffy pink tutus and flamingo masks.
Get a head start by prepping a witty get-up for next year's Fantasy Fest -- the theme will be "Animéted Dreams & Adventures." As one Huffington Post blogger and regular Fest attendee noted "There's no such thing as 'too risqué.'"
The parades are only two of dozens of events throughout the festival, which include everything from zombie bike rides, fetish parties, and pet masquerades.
See below for images from Fantasy Fest 2013.

BEFORE YOU GO
PHOTO GALLERY
Key West's Fantasy Fest 2013