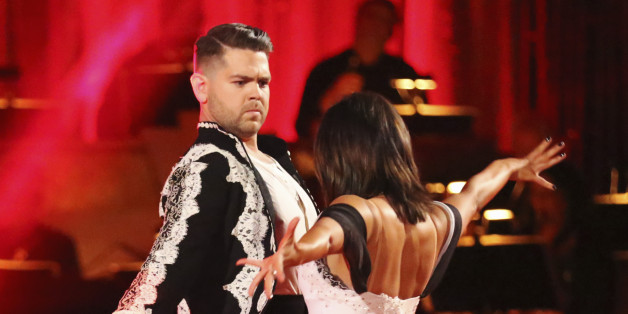 Life has been different for Jack Osbourne since he was diagnosed with Multiple Sclerosis just two weeks after he and his wife Lisa Stelly welcome their first child back in 2012.
The 26-year-old old has spoken at length about the disease, revealing that one of the hardest parts of coping with MS is the uncertainty. But in a Facebook post written on Oct. 27, Osbourne reveals his worries about whether the disease would affect his ability to perform on ABC's "Dancing with the Stars," telling fans he truly "had no idea" what the outcome would be.
He explains that since being diagnosed with relapsing-remitting MS (RRMS), he's been able to maintain a very active lifestyle, but wasn't able to figure out his limitations.
"I'd participated in numerous adventure races, lasting 12-24 hours, but doing something like that is completely different than training 7 days a week, 40 hours a week. You can't really prepare for a schedule like this," Osbourne wrote on his Facebook account, adding he that hasn't experienced any severe symptoms over the last 10 weeks
"It's funny, every week after the show, we all line up and do a big red carpet press line, and the question that every single reporter asks me is how are you feeling -- any aches any pains? But we all know what they're really asking," he wrote. "The truth of the matter is, today I'm good. I'm feeling strong and confident in my ability to continue on."
The former reality star went on to say that his goal is to win "DWTS" and take home the mirrorball trophy, with the help of his partner Cheryl Burke.
"I can't quite put into words how moved I am by all the people who have reached out to me online," Osbourne wrote. "It truly means a lot. ***Just know this, if that day does come where I do win this mirrorball, know that I didn't just win it for me, but I won it for all of us with MS.***""
Read Jack Osbourne's Entire Facebook post below:
BEFORE YOU GO
PHOTO GALLERY
Celebrity News & Photos