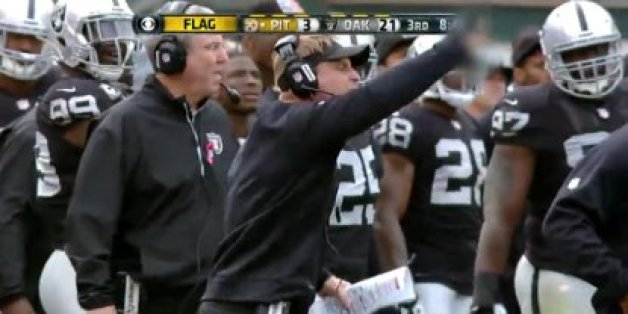 Raiders defensive coordinator Jason Tarver was not happy with the officials on Sunday and wasn't afraid to show it. Of course, he might come to regret his behavior if he gets a call from the NFL this week.
With Oakland leading Pittsburgh 21-3 during the third quarter, Steelers quarterback Ben Roethlisberger checked down and threw a short pass to Le'Veon Bell. Raiders cornerback Mike Jenkins ran into Bell and the pass fell incomplete. The officials initially penalized Jenkins for an illegal hit on a defenseless receiver. Tarver was irate at the personal foul, cursing and flipping the bird at the referees... twice.
The officials eventually picked up the flag and ruled that there was no foul on Jenkins. But CBS' television cameras still caught Tarver's gesture. So did former NFL Vice President of Officiating Mike Pereira, who wrote a column on the outburst saying he called the league office about the coordinator's actions.
"This kind of behavior is totally unacceptable," he wrote.
ProFootballTalk pointed out that Tarver should expect a fine worth five figures, citing then-Titans defensive coordinator Chuck Cecil who made the same gesture during a game in 2010.
UPDATE, Monday 5:30 p.m. ET: According to ESPN's Adam Schefter, the Raiders are expected to discipline Tarver.
"I apologize for my action on the sideline of yesterday's game," Tarver said in the statement released on Monday, per Paul Gutierrez of ESPN.com. "It was in the heat of the moment, and I regret drawing attention away from the Raiders players and what they accomplished."
UPDATE, Tuesday 11:27 a.m. ET: Ian Rapoport of NFL.com tweeted that Tarver has been fined.
The fine for #Raiders DC Jason Tarver was resolved, per source. Team will impose fine in cooperation with @NFL office. No amount disclosed

— Ian Rapoport (@RapSheet) October 29, 2013
BEFORE YOU GO
PHOTO GALLERY
PHOTOS: NFL Week 8