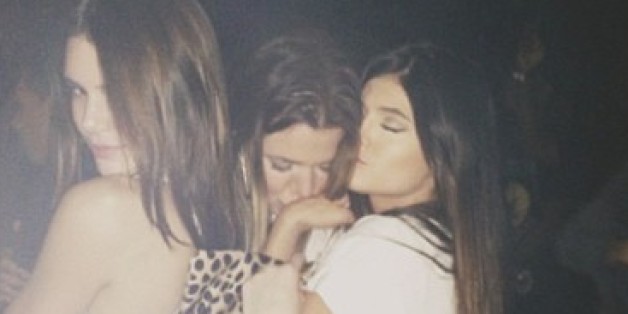 It's a wonder why the Kardashians employ publicists at all when they inevitably turn to Twitter to vent their frustrations and attempt to clear up rumors.
On Sunday (Oct. 27), Khloe Kardashian unleashed a series of angry tweets after her younger sisters, Kendall and Kylie Jenner, were again suspected of underage partying at a nightclub. The latest accusation came after Kylie, 16, posted a photo to her Instagram account of the three sisters sharing a hug at what could be a club setting.
Previously, both girls had been accused of underage drinking and using fake IDs to gain access to a sex-themed club in Los Angeles. Kylie was also accused of having a temper tantrum in a LA hotel after employees refused to serve her and her friends alcohol because they were underage.
After Khloe posted a similar, blurrier photo of the trio, speculation increased that she had been partying with her sisters; however, the girls were not at a club. Apparently, they were at future brother-in-law Kanye West's concert at The Staples Centre.
In an effort to prove people wrong about her sisters, Khloe went on a Twitter rant, telling everyone to leave them alone:
So sick and tired of people talking shit about my family. Last night I posted a picture of my little sisters at a CONCERT NOT a club. (1)

— Khloé (@KhloeKardashian) October 27, 2013
Stop assuming the worst! Stop trying to make us into something that we aren't! Its NOT going to happen! Judge us if (2)

— Khloé (@KhloeKardashian) October 27, 2013
you must but leave my little sisters out of it! They have enough to deal with as it is. Remember our words are our most painful weapon.

— Khloé (@KhloeKardashian) October 27, 2013
Come for me all you want but LEAVE THEM ALONE!!!!

— Khloé (@KhloeKardashian) October 27, 2013
If someone isn't what others want them to be, the others become angry. Everyone seems to have a clear… http://t.co/f3Aj1phNpe

— Khloé (@KhloeKardashian) October 27, 2013
It wasn't long ago that Kylie and Kendall, 17, went on their own Twitter rant defending themselves against rumors that they are out of control with their partying. Unfortunately, it hasn't seemed to do a lot of good.
BEFORE YOU GO