It's that time of year again. If you find yourself in a costumeless panic, may we suggest turning to the art world for some guidance. Whether you're looking for a buzzy contemporary work, a timeless classic, a terrifying alter-ego or a sexy number, we think we have something that will do the trick.
Behold, 12 artworks to mimic this most ghoulish Halloween.
1. Mike Kelley's "Deodorized Central Mass with Satellites"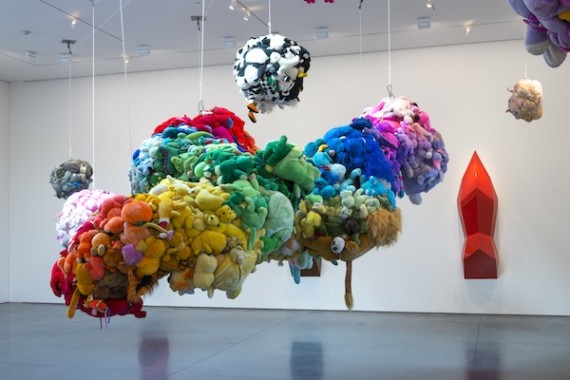 Why: Kelley's retrospective is taking over all of MoMA PS1 this month... and who doesn't want to don an orgy of stuffed animals?
What you need: Bundles of color coded stuffed animals and the energy to explain repeatedly that you're an artwork, not a zoo.
2. Grant Wood's "American Gothic"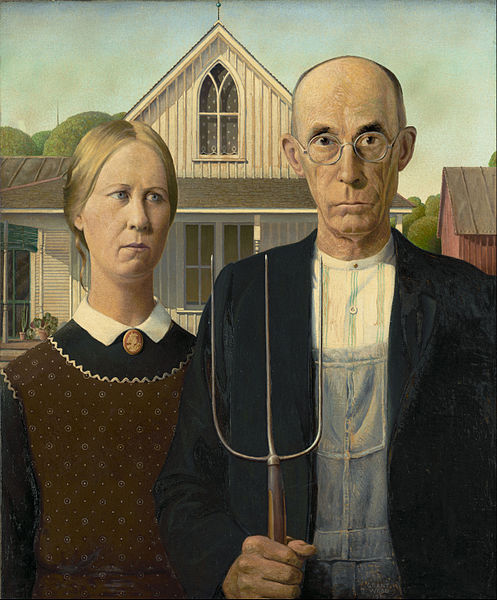 Why: Couples costume! This American classic is easy to pull of and instantly recognizable.
What you need: A date, overalls, a pitchfork, and a serious visage.
Bonus idea: Gothic American Gothic, because why not bust out the black lipstick?
3. Yayoi Kusama's "Happenings"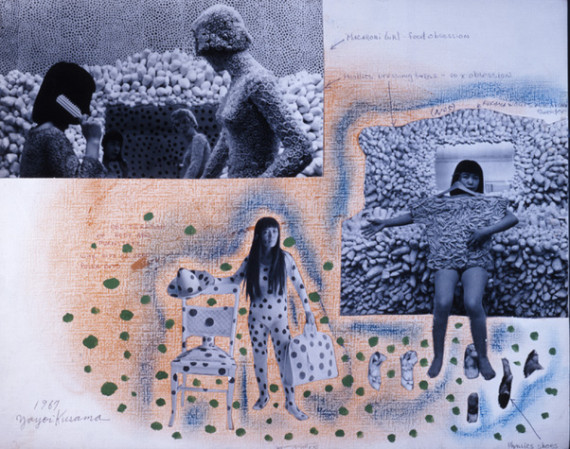 Why: Kusama is the queen and that is all.
What you need: A bodysuit covered in polka dots to express how we can obliterate ourselves and join the infinity of the universe. You can probably get one at American Apparel.
4. Tilda Swinton's "The Maybe"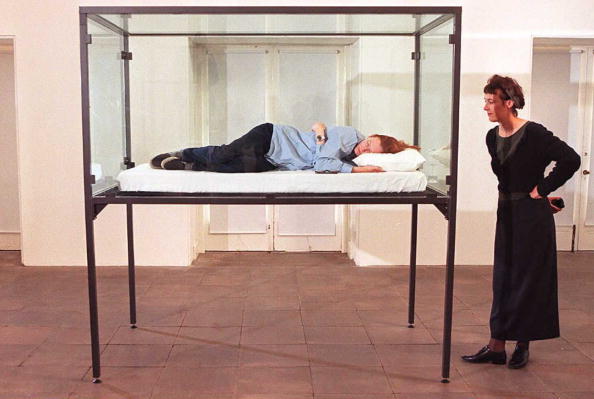 Why: Swinton sleeps in a box better than you could ever sleep in a box.
What you need: A chic androgynous ensemble, Swinton's signature Bowie coif and a very large box.
5. Yves Klein's "Fire Color 1" Why: Points for simplicity.
What you need: Blue paint. Lots of blue paint. And familiarity with the phrase "No, I'm not Mystique."
6. Jeff Koons' "Balloon Dog" Why: It will take five minutes to make and who knows -- maybe at the end of the night you can sell the costume for millions!
What you need: A balloon animal dog. Extra points for hamming it up posing next to the statue all night.
7. Francisco de Goya's "Saturn Devouring His Son"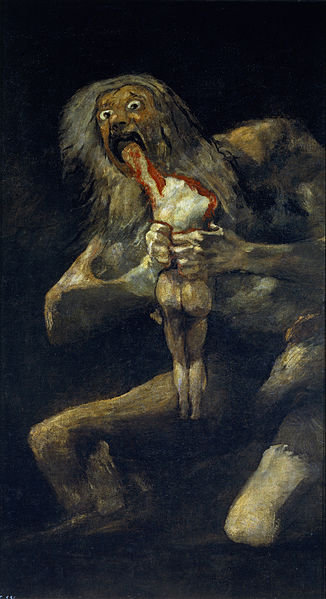 Why: You think ghosts make for a scary costume? This will have children screaming in terror.
What you need: A decapitated naked doll, a gnarly beard and crazy eyes.
8. Marina Abramovic and Jay Z's "Picasso Baby"
$$$$$$$$$$ @zoeschlanger Can't stop watching this vine of Jay-Z and Marina Abramovic dancing together https://t.co/imtk7kEPzR

— Azeen Ghorayshi (@azeen_g) July 10, 2013
Why: Whether you saw it as a beautiful artistic union or the death of performance art, odds are you watched this Vine over and over.
What you need: A long black dress, a long black braid and scary jazz hands. And a Jay Z.
9. John Baldessari's "Dot Paintings"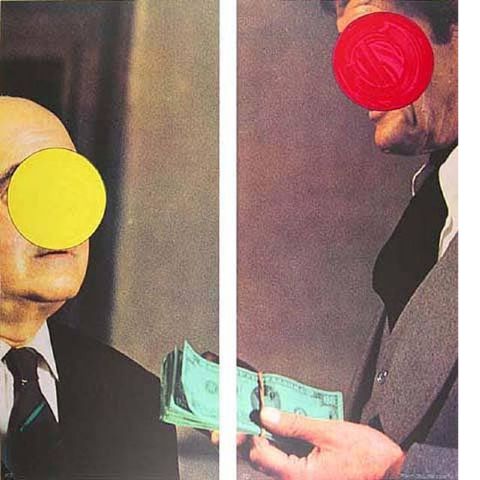 Why: Get a little postmodern with this year's ensemble, challenging your friends to focus on the idiosyncrasies beyond your face.
What you need: Some retro attire and a large, monochrome dot.
10. Nick Cave's "HeardNY" Why: There were few happier art happenings than Cave's Grand Central takeover, which left children and adults craning their necks to catch a glimpse of his glorious horse soundsuits.
What you need: Just an ornate horse costume that explodes, on demand, into a confetti-laden mass of color and movement. This is for the crafty costumer.
11. Sandro Botticelli's "The Birth Of Venus"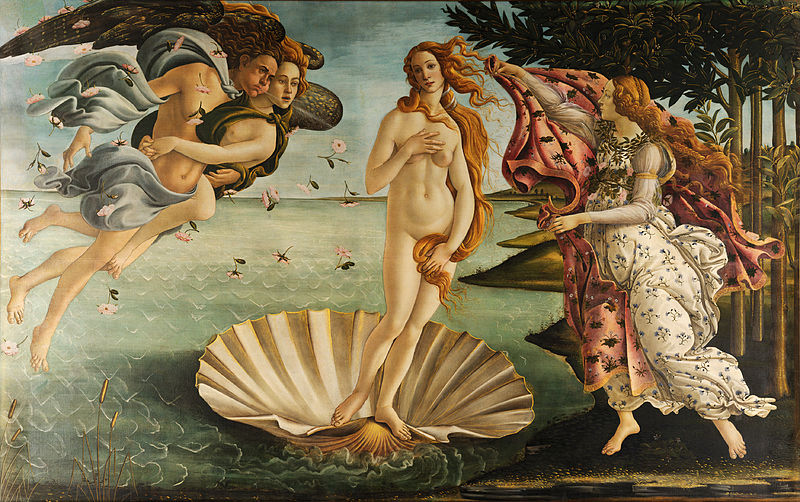 Why: Lady Gaga channeled this iconic classic in her "Applause" video and it's an artsy excuse to show some skin.
What you need: Long hair, a shell, a nude body suit (or not).
12. Florentijn Hofman's "Rubber Duck" Why: No artwork caused such a splash (sorry) as this giant, jet-setting waterbird.
What you need: A duck costume and a high brow attitude.
If you don't like any of these, you can always dress up as Beast Jesus again. Happy Halloween everyone!