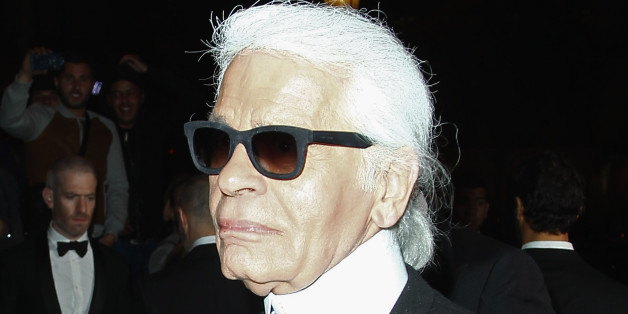 Karl Lagerfeld has often made waves for offhand remarks about "fat people." Now his words are coming back to bite him in the derrière, as a group called Belle, Ronde, Sexy et je M'assume has filed a legal complaint against him in France.
The organization, whose name translates to "Beautiful, Round, Sexy and OK with It," is accusing the Chanel designer of "defamatory and discriminatory comments," reports AFP. Betty Aubriere, the group's president, told AFP, "We're fed up. Many young girls are insecure and hearing such comments is terrible for them," particularly from famous people. "Today it's him who insults us and tomorrow who will it be?"
With its move against Lagerfeld, Aubriere says it hopes to address size discrimination broadly. Most individuals aren't as outspoken as Karl, who famously called Adele "a little too fat" and supposedly told a reporter, "No one wants to see curvy women." But discrimination against curvier women as well as men seeps into society in countless inconspicuous ways, from the lack of plus-size celebs in movies to stores that strategically cater to smaller sizes and even anti-fat biases in the workplace.
Targeting Karl Lagerfeld will likely focus attention specifically on the fashion industry, where unspoken (and sometimes spoken) standards for body shape have had damaging effects on both the models and the consumers who see them in ads and magazines.
On a more local level, Aubriere told the AFP that they are also pushing to end bullying, advocating more awareness in schools "so that people understand that curves are often an illness or genetic, and not due to a poor diet."
Think that this latest legal filing will make a difference in France... or force Lagerfeld to change his loose-lipped ways?
On the record:
PHOTO GALLERY
Karl's Crazy Comments
Want more? Be sure to check out HuffPost Style on Twitter, Facebook, Tumblr, Pinterest and Instagram at @HuffPostStyle.