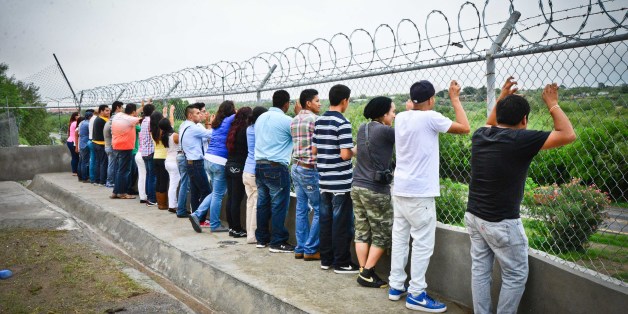 A group of undocumented activists who crossed into the United States through a legal port of entry in Laredo last month have launched a hunger strike inside a Texas detention center, La Opinión reports.
The protest marks a ratcheting up of tactics, as the protesters known as the Dream 30 struggle to win political support and public sympathy for their cases.
Family members of the protesters participated in a sit-in at the office of U.S. Sen. Bob Menendez (D-N.J.) on Monday in an attempt to pressure him to support the release of the undocumented youth, according to the California paper. Two mothers of the protesters visited the senator's office in Washington last week and were arrested, according to Al Jazeera.
Dream Activist, a network of undocumented activists that supports the Dream 30, called on sympathizers Monday to go on a day-long strike with the detainees.
Thirty people who had lived part of their lives in the United States as undocumented immigrants gathered in Nuevo Laredo, Mexico, last month to cross back into the country through a legal port of entry. They surrendered themselves to U.S. immigration authorities, an unprecedented form of protest against the Obama administration's record-setting pace of deportations.
They gathered sympathizers along the way, making the name "Dream 30" symbolic.
Immigration officials released eight of the protests' participants shortly after the protest for a one-year, renewable period using discretionary authority called "parole for significant public benefit." Twenty-four of the participants remain in detention.
The protest, organized by the National Immigrant Youth Alliance, comes after a similar one held in July. Three undocumented immigrants -- Lizbeth Mateo, Marcos Saavedra and Lulu Martinez -- crossed into Mexico with the intention of returning through a legal port of entry and declaring their undocumented immigration status to officials. They were joined by six others on the way, giving rise to the name "Dream 9."
The activists gained the sympathy of political leaders, with 35 Congress members signing letters to Obama asking for their release.
ICE released the Dream 9 from detention while they pursue asylum.
BEFORE YOU GO
PHOTO GALLERY
6 Misconceptions About The Border