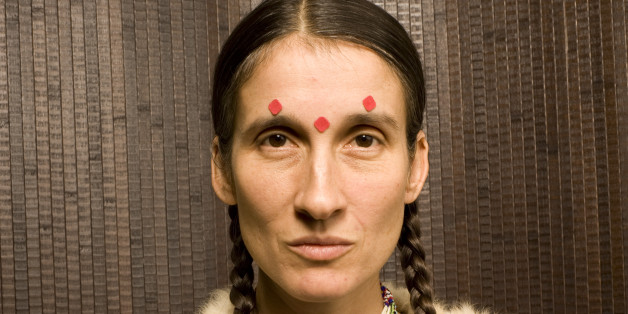 Since its birth, rock music has been a sort of boys club with young men at the microphone in far greater frequency than women. That said, there are a few stand-out Latinas who can rock with the best of the guys and we want to celebrate them as they're few and far between. Let's take a moment to learn about the Latinas leaving a mark in rock music.
Latinas in rock
Andrea Echeverri
Andrea Echeverri is the lead singer of the Colombian rock band Aterciopelados. She rocks out hard in Spanish with her bandmates Mauricio Montenegro (guitar), Camilo Velazquez (drums), Hector Buitrago (bass guitar) and Urian Sarmiento (percussion). Aterciopelados, which in English means The Velvety, won a Latin Grammy Award in 2001 for Best Alternative Music Album for "Oye" and in 2007 a Latin Grammy Award for Best Rock Album by a Duo or Group with Vocal for their album "Gozo Poderoso." In addition to her vocals with the band, Echeverri released a self-titled solo album through Nacional Records in 2005. She is nominated for a 2013 Latin Grammy for Best Singer-Songwriter for her song "Ruiseñora."
Ely Guerra
Born in Monterrey, Nuevo Leon, Mexico in 1972, Ely Guerra has gone from being an aspiring songwriter at age 10 to creator of her own record label, Homey Company. Previously recorded under the EMI and BMG labels, Guerra's rock music career includes a Latin Grammy Award for Best Alternative Music Album for "Hombre Invisible," released in 2009. Just this past summer, it's reported that Guerra completed production on three tracks to be released on a new album with no anticipated distribution date at this time.
Gabriela Quintero
An integral part of the musical duo Rodrigo Y Gabriela, Gabriela Quintero's fast, rhythmic acoustic guitar performance created a cult following on the streets of Dublin, Ireland, a far cry from her hometown of Mexico City, Mexico. Quintero is described as a happy hippie. She's an entertainer, lives a vegan lifestyle and is an animal rights activist. The duo's latest album, "Area 52," was released in early 2012 to mixed reviews, but their 2013 tour had several sold-out shows.
Amparo Sanchez
The self-proclaimed Amparanoia, Amparo Sanchez is a Spanish singer and songwriter who fronted a band of the same name from 1996-2006. Her rock sound is a fusion of Latin, raggae and traditional rock styles with lyrics inspired by the day-to-day struggles of most people. Sanchez is about as versatile as a Latina rock star can get. She released a children's music album entitled "Los Bebesones" and a solo album, "Tuscon-Habana," with Billie Holiday as her inspiration.
Camila Moreno
In 2009, Camila Moreno was called Chile's "rising rock star." Her album "Almismotiempo" demonstrated a maturity as well as passion for social issues that is a trademark of her rock music style. In 2009, Moreno received a nomination for a Latin Grammy for Best Alternative Song for her single "Millones." In 2012, she released another solo album, "Panal," which received some rave reviews from critics and fans.
Francisca Valenzuela
Having earned both gold and platinum albums in her native Chile, Francisca Valenzuela was dubbed the "Princess of Rock and Roll" by the Chilean press. Some say her voice is similar to American singer/songwriter Fiona Apple, but her piano skills and refusal to conform are all her own. In March of 2012, Valenzuela promoted her latest album "Buen Soldado" at the South by Southwest Music Festival in Austin, Texas. She began recording for her third album in Los Angeles, Calif. in March of 2013.
Mercedes Sosa
We wrap up our Latinas in rock list with a tribute to the late Mercedes Sosa. Truly one of the trailblazers for the Latinas listed above. Sosa, an Argentine singer/songwriter known as La Negra, won a Latin Grammy Award posthumously for Best Folk Album for "Cantora." Throughout her career she won the Latin Grammy for Best Folk recording in 2000, 2003 and 2006. She passed away in October of 2009 at the age of 74. Sosa was a musician and activist, supporting Peron and Nestor Kirchner as well as serving as a UNESCO Goodwill Ambassador for Latin America and the Caribbean. Her music career spanned 60 years and included the release of 70 albums. She is truly an inspiration for all Latinas in rock today and for future generations.
Originally published on VOXXI as Seven Latinas leaving a mark in rock music
BEFORE YOU GO
PHOTO GALLERY
'Morenas', 'Negras' & 'Mulatas' In Latin Music