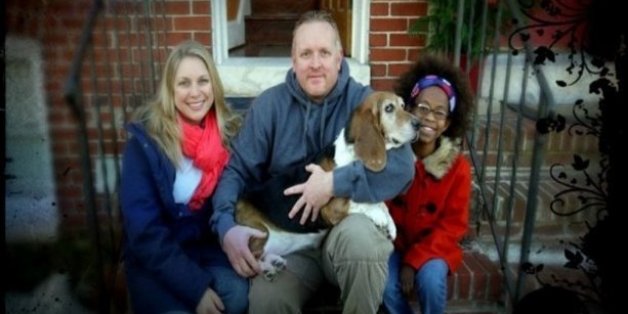 What began as a photographic census of New York City is turning into a means for spreading kindness across the globe.
Proof of that is the latest story from photographer Brandon Stanton's Humans of New York (HONY) project. Thanks to Stanton, Facebook, and the generosity of strangers, a little boy in Ethiopia may be getting adopted.
On Tuesday, Stanton posted a photograph of a cameraman named Duane. According to a HONY Facebook post, Duane and his wife had been unable to conceive, and had recently decided to adopt a 7-year-old Ethiopian girl named Chaltu who'd been blinded in one eye.
When Stanton asked if he could share Duane's story on HONY, the cameraman shyly made one request.
"Would there be any possibility that you could help us raise the adoption fees to get her a brother?" Stanton says Duane asked. "We've already found him, but aren't financially ready yet."
Stanton immediately took to Facebook and set up an online fundraiser called "Let's Bring Richard Home." He set the goal at $26,000.
Then, the most incredible thing happened. In about an hour, the goal was met and exceeded.
By Wednesday afternoon, they had raised more than $77,000. Stanton wrote on the fundraising page that all additional money raised will go towards Chaltu and Richard's education.
If your heart's not already swelling with love, read the note that Duane's wife, Kristen, sent to Stanton:
Richard is receiving some schooling and he is most likely at a 1st or 2nd grade level currently. He has not been in a car, on a plane, he has never seen a park, been on an elevator, escalator, in a pool or down a slide. We are currently trying to save so that we can afford all of his processing fees. At night when I go to bed, all I think about is that he's 7000 miles away... I think about him lying in his bed (most likely shared with 1 or 2 others). He does not know that he has a mommy and daddy trying to bring him home. I pray each night that he will somehow know that we are coming.
Remarkably, this isn't the first time HONY has rallied strangers to change someone's life. In August, after meeting a little boy who desperately wanted to be a cowboy, Stanton raised enough money to both send the child on a 'Wild Wild West Adventure,' and make a hefty donation to a therapeutic riding center.
BEFORE YOU GO
PHOTO GALLERY
Random Acts Of Kindness