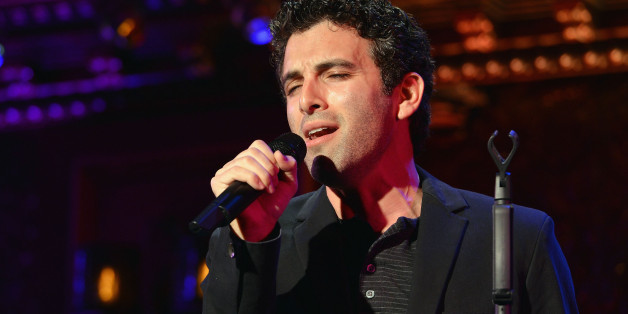 Jarrod Spector doesn't mind being typecast and, more specifically, he isn't fazed if audiences still think of him as Frankie Valli. The actor, who played Valli for a staggering 1,500 performances in Broadway's "Jersey Boys," says his new show grew out of a conversation he had with the legendary Four Seasons frontman.
"I asked Frankie who he listened to when he was growing up, and he mentioned a guy named Little Jimmy Scott," Spector recalled. "I'd never heard of him, but I listened to his music and I thought, that's where Frankie's voice came from!"
Spector says that revelation, paired with his personal passion for rock-and-roll history, formed the basis for "A Little Help From My Friends," which opened Oct. 27 at New York's 54 Below and continues on Nov. 3, 10 and 17. With an eclectic set that includes Four Seasons hits as well as tunes made famous by Paul McCartney, Queen, Michael Jackson and Bruno Mars, Spector says his show traces the "legacy of the rock tenor voice," extending "before and beyond Valli" as the central archetype.
"Part of my struggle, having played the same role for so long, is that people tend to think that's the only thing I can do," said Spector, who crooned a tender version of McCartney's classic "Maybe I'm Amazed" during a press preview of the show. "Everybody wants to put you in a box, so my show is all about broadening that box … still, my show is not a history lesson; it really just represents my fascination with music."
Though he's best known for his Broadway performances, Spector prefers to eschew the musical theater label. "As far as I'm concerned, I'm acting plus rock singing," he said. His next theatrical endeavor kicks off just days after he wraps his 54 Below run: He'll play Barry Mann in "Beautiful: The Carole King Musical," which begins performances in New York on Nov. 21.
"Beautiful" focuses on the first decade of King's legendary singing and songwriting career, and nabbed sterling reviews during its San Francisco run earlier this fall. Spector said he's thrilled to return to Broadway in another original role that explores a different side of rock and roll.
"The audiences in San Francisco were wonderful, but New Yorkers, as far as I'm concerned, will get it even more than anybody else because it's about a Jewish girl from Brooklyn who wrote incredible music," Spector said. "As much as it's been a labor, it's very much a labor of love."
Jarrod Spector's "A Little Help From My Friends" plays New York's 54 Below on Nov. 3, 10 and 17. For more information, click here.
BEFORE YOU GO
PHOTO GALLERY
Jarrod Spector At 54 Below