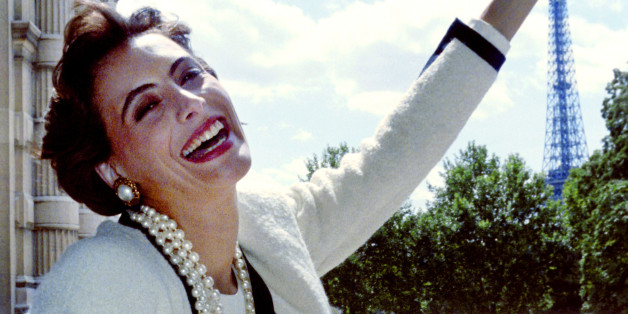 Landing a position as Karl Lagerfeld's and Yves Saint Laurent's muse is no easy feat, but Ines de la Fressange has an oh-so-French style sensibility that turns heads. Now, she's bringing her specific brand of je ne sais quoi to the masses, designing a collection for Uniqlo.
The retailer announced on Wednesday that it would be collaborating with de la Fressange, a former model, for its upcoming spring/summer collection, Women's Wear Daily reports. Naturally, Uniqlo says that the collection will have a "Parisian style" theme.
While de la Fressange spent the better part of the '80s rubbing shoulders with the fashion world's elite, she has spent recent years penning a style guide, "Parisian Chic," and even mixing in some High Street brands, like H&M and Uniqlo, with her Chanel jackets and pearls. So she seems more than poised to continue sharing her sartorial wisdom with those who can't afford a runway ensemble.
Of course, this isn't Uniqlo's first major "get." Back in 2008, the retailer nabbed then-up-and-coming designer Alexander Wang for a capsule collection of dresses. Then, in 2009, Jil Sander joined the team as creative director, focusing primarily on her popular +J collection (unfortunately, Sander unceremoniously left the brand in 2011). Most recently, French basics brand Comptoir Des Cotonniers launched a collaboration with Uniqlo in 2012.
Clearly, Uniqlo has had its eye on Parisian style for quite some time now. We can't wait to see what de la Fressange's collection has to offer when it's unveiled in Paris on Nov. 20. Stay tuned!
See de la Fressange's "Parisian chic":
Want more? Be sure to check out HuffPost Style on Twitter, Facebook, Tumblr, Pinterest and Instagram at @HuffPostStyle.