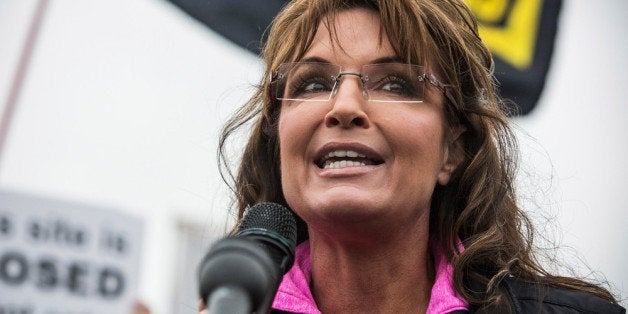 Former Alaska Gov. Sarah Palin (R) took to Facebook early Thursday to attack President Barack Obama's Wednesday speech on health care, accusing the president of delivering "another 'ShamWow'-style infomercial for Obamacare."
The former Republican vice presidential nominee said Obama had "a lot of 'splaining to do," and accused the president of actively lying on health care law policies in order to "deceive the American people."
Palin said she expected Obama's Boston speech to include a formal "Presidential apology for lying to Americans," and upon hearing his "ShamWow infomercial," she decided to express her outrage on Facebook:
That's right. Obama didn't lie to you when he said, "if you like your plan, you can keep it." Why? Because, you sillies, you DIDN'T REALLY like the plan you chose for yourselves! No arguing. Barack Obama knows best and he'll tell you whether you actually liked your insurance plan or not. If you're an elderly bachelor, your old plan was clearly "substandard" because it didn't offer maternity care. What's that you say? You don't need maternity care? Well, according to the President today, he says you do, and any insurance plan that doesn't offer it is a "junk" plan provided by a "bad apple" insurer.
Palin has repeatedly attacked the president's signature health care legislation and was a vocal supporter of tea party Republicans like Sens. Ted Cruz (R-Texas) and Mike Lee (R-Utah) in shutting down the government over defunding Obamacare.
"There was no other credible alternative plan to seize the constitutionally appropriate opportunity to legislatively close the purse strings to stop the juggernaut of full socialized medicine," Palin wrote in a Breitbart op-ed published Oct. 20.
See Palin's entire Facebook post below:
BEFORE YOU GO
PHOTO GALLERY
Sarah Palin Hugs It Out