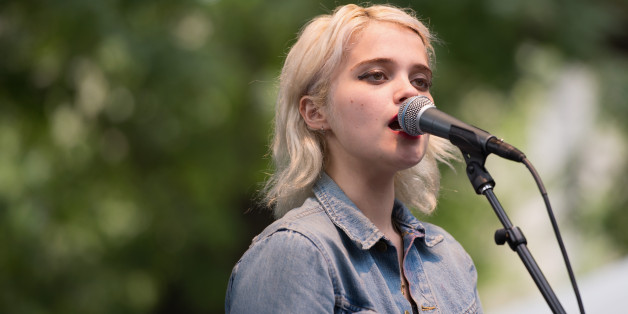 Ecstasy has been a hot topic in the music industry this year, and Sky Ferreira added fuel to the Molly flame in a new interview with Rolling Stone.
The 21-year-old singer, who was arrested for drug possession in September, railed against the criticism she's received for having been caught with Molly when "every song is a song about Molly." Ferreira says she's lost out on modeling opportunities because brands don't want to be associated with "drugs and stuff."
The singer derided the brushstrokes that have painted her as a "heroin addict" when so many in the industry are doing Ecstasy/Molly/MDMA.
"People are pissed about the Ecstasy, but that's not what they're writing about. Everyone wants heroin. Because the truth is, they probably all do Ecstasy, but they're all high and holy. Other people have given me s--t about it, and I'm like, 'It's on the radio!' Like every song is a song about molly. That's life. I'm not saying that people should do Ecstasy, but at least it's a happy drug. It's not like like I'm supporting drug use. But at the same time, I'm not going to sit here and let people call me a f--king drug addict when I'm not. People can say I'm being defensive about it, but I'm not promoting drug use. I'm not telling little girls to do heroin."
Ferreira faced misdemeanor charges when she and her boyfriend, DIIV frontman Zachary Cole Smith, were pulled over and found to be in possession of drugs. Ferreira allegedly had Ecstasy on her, while Smith was found with "42 decks" of heroin. She's since faced accusations of being a drug addict, which she addressed by asserting that people have always viewed her as such based on the way she dresses. At the time, she was on tour with Vampire Weekend. The start of October, however, found her canceling her remaining gigs on the tour, citing "doctor's orders" for a vocal injury.
Ferreira joins a tit-for-tat conversation about Molly that's been going on for the better part of the year. She's among a bevy of musicians who've spoken positively about the drug, saying its effects are meant to be positive. Artists who've sung about Molly recently include Miley Cyrus, Kanye West, Rihanna and Eminem. Those arguments are countered by the fatalities that have come at the hands of the drug, namely two deaths that took place at this year's Electric Zoo festival after students allegedly took six hits.
For more on Ferreira, including scoop on her new album, hop over to Rolling Stone to read the entire Q&A.
BEFORE YOU GO
PHOTO GALLERY
Celebrity Drug Confessions