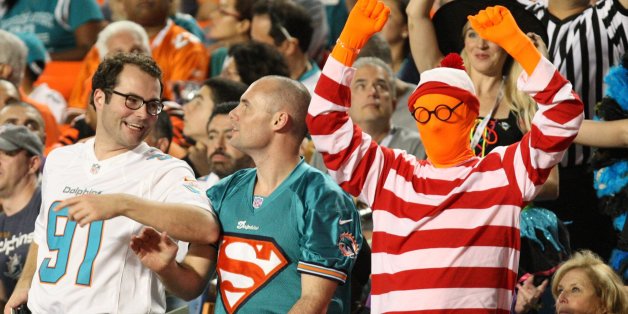 Why we love NFL games on Halloween night: COSTUMED FANS.
Case in point: check out this awesome lady at last night's Dolphins-Bengals game. She dressed as Princess Leia, worked in some Dolphins gear, and accessorized with a man in a Chewbacca costume and a Bud Light. That's some serious American Halloween footballin'.
From the Grim Reaper to Hulk Hogan dressed as himself to a very, very excitable Richard Simmons, it was as much fun to watch the fans in the live shots as well as the game (which, by the way, THE DOLPHINS WON).
Check out some of the best costumes at Sun Life Stadium below:
PHOTO GALLERY
Dolphins-Bengals Halloween Costumes