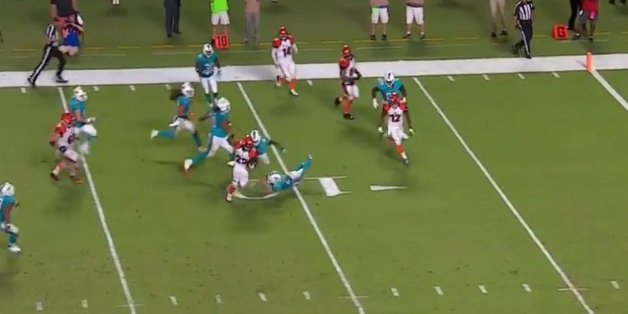 Cincinnati Bengals running back Giovani Bernard covered so much ground on this rambling touchdown that one Miami Dolphins defender had the chance to miss two tackles on the play.
With Cincinnati trailing Miami 17-10 in the fourth quarter, Bernard evened the Week 9 edition of "Thursday Night Football" with what may turn out to the be the most impressive touchdown run of the NFL season. On a 1st-and-10 play from Miami's 35-yard line, the rookie out of North Carolina took the hand off from Andy Dalton and began to his right. The play nearly ended before Bernard even got back to the line of scrimmage as cornerback Brent Grimes almost dragged him down. Somehow staying on his feet, Bernard reversed direction and bolted for the far sideline, taking a circuitous route that brought him even further behind the line of scrimmage. After reaching the far sideline, Bernard followed three blockers -- including quarterback Andy Dalton -- up the edge of the field. At the 10-yard line, Bernard veered back toward the center of the field as he closed in on the end zone. At this point, Grimes had another chance at a tackle. He missed, again.
Some on Twitter were quick to put Gio's phenomenal play in the "Touchdown Run of the Year" conversation. Some thought it was a little Barry Sanders-esque. Some thought he looked a little bit like Reggie Bush during his days at USC?
Was Bernard's touchdown the best of the year (so far)?
PHOTO GALLERY
Reactions To Gio's TD Run