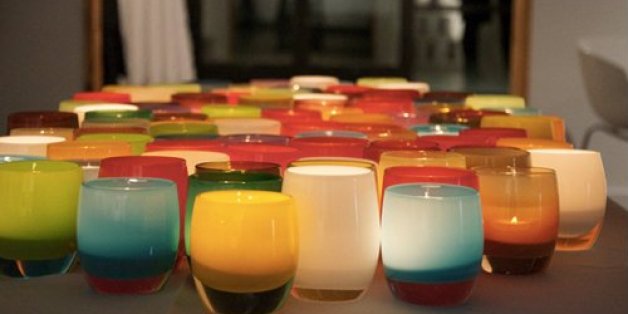 When Lee Rhodes started lighting candles as a comforting ritual during her battle with lung cancer, she had no clue how big the idea would become.
Rhodes is the founder of Glassybaby -- a Seattle-based company that sells a rainbow of handblown glass candleholders and donates 10 percent of its sales to helping people make ends meet while they battle life-threatening illnesses. For the past decade, the company has operated only out of its Seattle headquarters. But on Friday, it will open a location in San Francisco.
The business started when Rhodes, 32 at the time and a mother of three, was undergoing chemotherapy. Her husband, who had taken glassblowing lessons, brought home a simple glass cup as a gift. Rhodes dropped a tea candle inside and experienced what she describes as a moment of surprising peace. Soon, Rhodes was lighting the colorful candles all over the house.
"It became a ritual," she told The Huffington Post. "Taking the 30 seconds to light the candle, experience that warmth and beauty, and just reflect was exactly that I needed."
Rhodes started giving the candleholders to friends, and the demand grew.
"People would take them home and light them for me," she remembered. "Soon, they started lighting them for other people and giving them away as special gifts. People started asking for more and more of them. It just kind of flowed."
Fifteen years later, Rhodes employs a team of Seattle-based glassblowers that makes each candleholder by hand and the company gives away 10 percent of the revenue -- a decision that, in the beginning, was a risky move.
"When we started, I can guarantee you everyone was worried about the money I was pouring into Glassybaby," Rhodes remembered. "They would say, 'There's no way you can sell one thing that's made in America and give 10 percent of the sales away, no way.'"
But the decision was a no-brainer for Rhodes.
"When you're going through chemotherapy, you really see the underbelly of what people are going through," she told HuffPost. "And one thing that really affected me was seeing people struggle to make ends meet while going through treatment."
Rhodes watched fellow patients miss chemotherapy sessions because they couldn't afford to get there.
"It was $15 to park at treatment on top of the gas money to get there," she said. "That's an amount of money that I don't even think about ... but that's enormous for some people. Insurance may pay for treatment, but they don't pay for groceries or laundry or missed work, or gas money and parking to get to your treatment."
The realization struck a chord. "To be honest, I was sickened that that financial barrier was something I'd never even considered. It's hard enough just to live like that, but to try to heal when you're worrying about that? Forget it."
Rhodes was particularly moved after befriending a young waitress at her treatment.
"She was so darling, but one day she just stopped coming," remembered Rhodes. "When she finally came back, she was really too sick at that point. I asked her where she'd been and she said that she couldn't get the work off. Eventually, she passed away."
Because of stories like these, Rhodes donates sales from Glassybaby specifically to organizations that don't earmark how recipients can spend the funds, allowing those going through treatment to decide for themselves.
"The first thing a cancer survivor will tell you is, you can't tell them what they need to heal," said Rhodes. "I don't care if you buy groceries or blue jeans or a book or a latte or pay the electric bill -- whatever you need. Our sweet spot is really the unrestricted help."
The small business has given more than $1 million to charitable organizations dedicated to healing. With the expansion to San Francisco, Rhodes hopes to give more.
But she admits that consistently donating 10 percent of revenue makes expansion a challenge. Still, she is dedicated to maintaining the mission.
"I'm sure that we could be richer," she said. "But I don't think I could be richer in the way that's important to me."