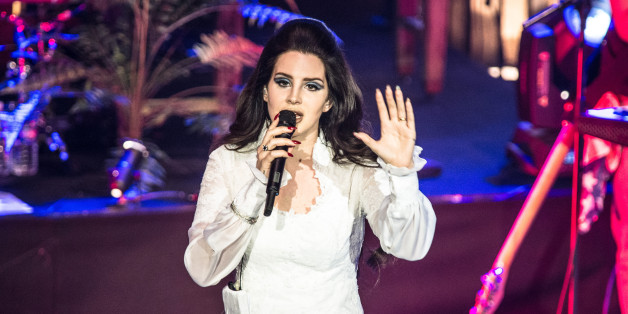 A 50-piece orchestra played Lana Del Rey's "Young & Beautiful" when Kanye West proposed to Kim Kardashian at AT&T Park in San Francisco on Oct. 21, but that's not quite how West envisioned the proposal going down.
A source told RadarOnline that West asked Del Rey to perform at the surprise engagement, but she turned down his offer.
"Lana politely declined, and didn't give any reason for not being able to perform. It was a very firm no from Lana and her camp. Kanye did try to push it, but didn't get anywhere. Kanye decided to hire an orchestra to perform the song for Kim, and he was much happier with how it turned out," the source told the website.
As it turns out, West actually admitted during his interview with Power 106 that he attempted to get the 27-year-old singer to fly out to San Francisco for his proposal, but couldn't convince her. It remains unclear if the rest of West's over-the-top proposal would have been different had the singer accepted the gig, as the orchestra followed up "Young & Beautiful," with the rapper's own hit, "Knock You Down," featuring Keri Hilson and Ne-Yo. Not that it would have been any less nerve-wracking for West.
"I was nervous. I was talking to her cousin. I was like, 'I don't know, what do you think she's going to say?' I'm not arrogant about love and feelings at all. I'm confident in the work I put so much work into, but this is someone else's feelings. You never know what someone else may feel at the time. I just knew I wanted her to be my girl for a long time," he told Ryan Seacrest in a radio interview on Oct. 29. "I remember I saw a picture of her and Paris Hilton ... and I remember telling my boy ... 'Have you seen that girl Kim Kar-dijon?'"
Request for comment made to Del Rey's camp have not been returned at this time.
UPDATE: "I would never deny his request, that's not true," Del Rey told TMZ when asked about the rumors. She seemed to place an emphasis on the word "his" but wouldn't speak any further on the matter other than to reiterate that the rumors are false. Watch the video below.
BEFORE YOU GO
PHOTO GALLERY
Kim Kardashian and Kanye West