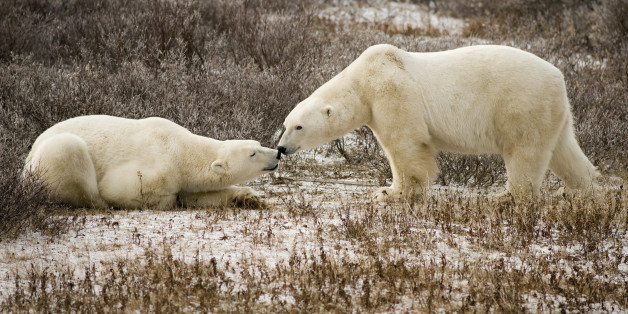 Two polar bears were shot and killed on Friday after a bear attacked two people in a northern Canadian town, authorities said.
Around 5 a.m. on the morning after Halloween, a 30-year-old woman was attacked by a polar bear in Churchill, Manitoba, the Royal Canadian Mounted Police (RCMP) said in a statement emailed to The Huffington Post.
Churchill resident Bill Ayotte, 69, exited his house when he heard the unidentified woman being attacked, the RCMP said. Ayotte used a shovel to scare the bear away from the woman but was knocked to the ground by the animal, The Winnipeg Free Press reported.
"I actually didn't realize there was a person underneath the bear until I saw a hand waving," resident Adilia Shields, who witnessed the attack on Ayotte, told the outlet.
Responding to the incident, officers from the Manitoba Conservation and Water Stewardship said they shot and injured one bear, according to a statement obtained by HuffPost. While they were following it through the town, they shot and killed another bear found near where Ayotte and the woman were attacked.
The first bear was subsequently found dead. Only one bear was involved in the attack, RCMP spokeswoman Tara Seel told HuffPost on the phone.
Ayotte, who endured "multiple lacerations," was taken to a local hospital, the RCMP statement said. But both he and the woman are in stable condition.
Polar bears pass through Churchill every year on their way to hunt seals on Hudson Bay. Recently, though, their migration has occurred later in the year because global warming has delayed ice formation on the salt water bay, Canadian Broadcasting Corporation reports.
(hat tip Reddit)
BEFORE YOU GO
PHOTO GALLERY
Photos Of Bears