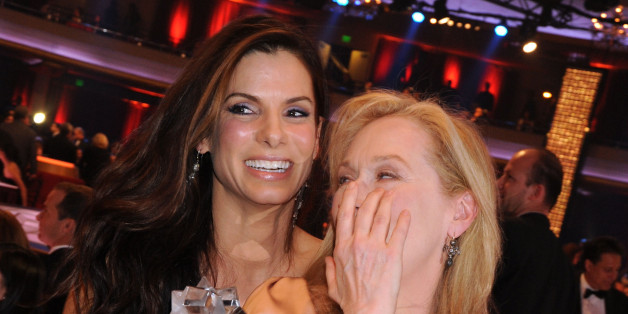 The awesome friendship between Sandra Bullock and Meryl Streep is now more awesome. "If Meryl and I get in a ring, she'll kick my ass," Bullock told ShortList.com in a new interview. "People don't realize that there's a side of Meryl that's just mean. You walk away and she'll just rip your dress ... I know not to turn my back on her."
This, of course, isn't the first time Bullock has talked about Streep in such a manner. Their banter dates back to awards season in 2010, when Bullock and Streep were both nominated for Best Actress.
"With Meryl, when this whole thing started, I left her a voice mail going, 'You've got to watch your back. I'm gonna cut you. I'm gonna take you down,'" Bullock said in an interview with The Associated Press before the Academy Awards in 2010. "And then she sent me dead orchids and told me to die, so I sent her a case of liquor and told her to toast to white trash."
Perhaps more dead orchids will be in play this year: Bullock has received early awards buzz for her lead role in "Gravity," while it's expected that Streep could score her 15th Best Actress nomination (and 18th overall nomination) for "August: Osage County."
For more from Bullock on Streep, head to ShortList.com.
PHOTO GALLERY
Celebrity News & Photos