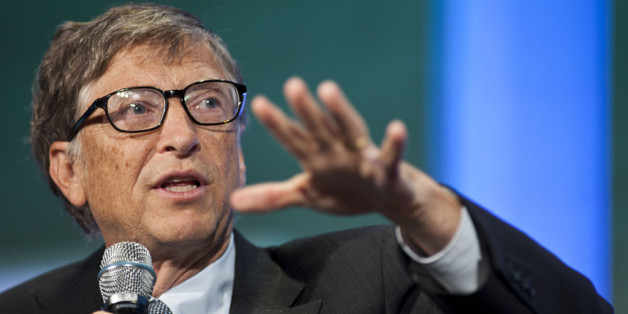 Technology is "amazing," Bill Gates told the Financial Times in a recent interview, but it's not going to save the world.
Speaking with the Times' Richard Waters about what it's going to take the make the planet a better place, the Microsoft co-founder said that though improvements in technology may have their benefits, they won't meet the needs of the world's most desperate.
"I certainly love the IT thing," Gates said. "But when we want to improve lives, you've got to deal with more basic things like child survival, child nutrition."
"PCs are not, in the hierarchy of human needs, in the first five rungs," he later added.
Gates' comments come just a few months after Facebook co-founder Mark Zuckerberg and a group of other tech moguls -- positioning Internet connectivity as a humanitarian concern -- promised to bring Internet access to the entire world.
"The Internet is an important foundation in improving the world," Zuckerberg told Wired in August of the plan.
When asked by the Financial Times whether Internet connectivity is more important than, say, finding a vaccination for malaria, Gates responded: "As a priority? It's a joke."
"If you think connectivity is the key thing, that's great. I don't," he added.
(Go to the Financial Times to read the full interview with Bill Gates.)
Gates has been a vocal advocate for malaria research for years. As co-chair of the Bill & Melinda Gates Foundation, the 58-year-old philanthropist has put billions of dollars into improving healthcare and fighting poverty in developing countries.
A major part of the foundation's work has focused on tackling infectious diseases like malaria, HIV and polio.
"The malaria parasite has been killing children and sapping the strength of whole populations for tens of thousands of years," Gates wrote in a blog post for The Huffington Post in 2011. "It is impossible to calculate the harm malaria has done to the world. But we have the ability to make generation after generation of better tools, and we can chart a course to end malaria."
BEFORE YOU GO
PHOTO GALLERY
How Internet Is Restricted Around The World