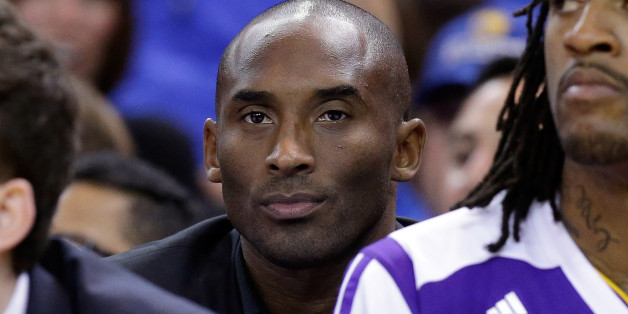 He completed the first week of in-depth conditioning on his torn left Achilles tendon, but Kobe Bryant declined to provide a timetable on when he will return from an injury that has sidelined him since April.
Bryant spent the past week ramping up his activity, mixing his running on a weight-bearing treadmill and flat surfaces. He also considered it part of the first week of his self-required three weeks of conditioning before he feels comfortable returning to the court.
"This week has been pretty well," Bryant said. "I've been able to push pretty hard and the next day come back and push hard again. The recovery of it has been pretty good."
Bryant rolled his eyes on whether that he meant he would return as quickly as two weeks from now when the Lakers play Nov. 15 against the Memphis Grizzlies.
"This is turning into a press conference," Bryant said with a smile. "I just wanted to get my weekly thing out of the way."
Bryant, as with all injured NBA players, talks to reporters only once a week per league rules. He hit on a wide-range of topics, including Derrick Rose's return from an ACL injury, Allen Iverson's retirement and the Lakers' play. Bryant also added he obstained from eating candy on Halloween, cognizant of the diet Lakers strength and conditioning coach Tim DiFrancesco promotes.
"If it was candy," Bryant said, "it was grass-fed."
Bryant remained cautious with the rest of his recovery.
After participating in some light shooting and jogging drills two weeks ago in China, Bryant said he "scaled back" his activity and mostly ran on a weight-bearing treadmill. He reduced his workload because he wanted to restore more flexibility and range in motion.
"We got through the hard part in terms of preserving the tightness," Bryant said. "Now you have to make sure you're not putting yourself in jeopardy with other parts of the body. Being 35, you really have to pay attention to that. You don't want to create a string of injuries that then it's one after the other. You want to take care of it, handle it and come back at full strength."
Bryant wants to return as quickly as possible, obviously. But he dismissed the popular notion he struggles with staying patient.
"That's a misconception. There's nothing I can do about it," Bryant said. "I measure my injuries very well. If it's something I can play through and it won't get worse, I'll play. if it's something that will get worse, I have to make those decisions."
So to keep himself engaged, Bryant has taken a behind-the-scenes leadership role. He said he's actively talking with teammates about on-court strategy, most notably with wing players Nick Young, Wesley Johnson and Xavier Henry.
"It's tough when you're sidelined for so long and not feel a part of the process," Bryant said. "It's always going to be that way because you're not out there every day on the practice court or even watching practice for that matter. You're doing treatment and working out and things like that. It's very easy to lose that connectivity."
Conflicting feelings
Steve Nash prides himself on being a good teammate, but he admitted he didn't particularly like Mike D'Antoni's decision to sit him in the Lakers' loss Wednesday to Golden State in hopes of preserving the 39-year-old guard on the second night of back-to-back games.
"It wasn't easy. I wanted to play," said Nash, played Friday against San Antonio at Staples Center. "I told Mike even before the game when we decided in the morning that I'd like to play. But in my 18th year, you realize it's a long season. Mike made some good points to me about being conservative at this point."
Spurs coach Gregg Popovich often has rested veterans Tim Duncan, Manu Ginobili and Tony Parker.
"Those guys always seem to take two weeks off of the season somehow," Nash said. "That's great. It's smart. But they have the luxury to do it."
Nash mentioned the Spurs' usually strong position in the NBA standings and the team's continuity. But Popovich suggested those variables don't solely hinge his thinking.
"As long as there's a constant attention to detail about it, you can get it done," Popovich said. I think it's extended Tim and Manu's time on the court. I don't care what our record is. All I care about is what the situation is at the time as far as their minutes and what they play like."
For more of the latest Lakers news follow Mark Medina's . ___
BEFORE YOU GO
PHOTO GALLERY
Best 2013 Sports Photos