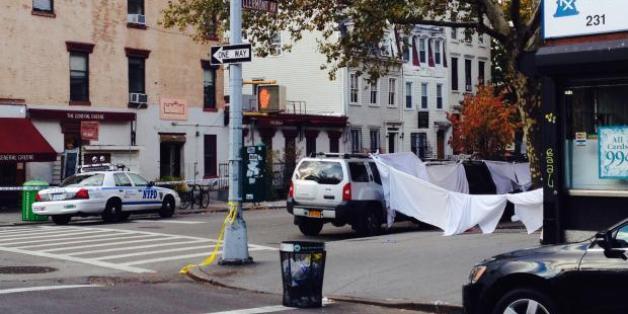 By Janet Upadhye, Jess Wisloski and Claire Cameron
BROOKLYN — A 9-year-old boy was struck and killed when a red Ford Expedition lost control on Saturday, smashing into three cars and jumping a curb in a bustling Fort Greene restaurant strip, police said.
Three other people were sent to the hospital, including the child's 5-year-old brother, according to neighbors, but the older boy was declared at the scene, police said.
The child had been pinned underneath the SUV that had been headed west on DeKalb Avenue and was making a left turn on Clermont Avenue when it struck a Chrysler Pacifica as well as two unoccupied vehicles, and lost control.
"It was horrific. There were people running and screaming," said Velma Armstrong.
The other victims, a 5-year-old boy, and two women, 28 and 47, were all rushed to Kings County Hospital and declared in not-likely condition, the FDNY said.
"It's a young family living in Clinton Hill," said Councilwoman Letitia James, who represents the district and came out to speak to residents shaken by the tragedy after meeting the family at the hospital.
"We have one child critically injured and another young lady that broke her ankle," said James.
Of the mother, she said,"she's traumatized, as any mother would be who has lost their child."
"The other child is five years old, and he is doing fine, he is going to be fine."
Shirley Nestor, a nearby resident, said she was walking down Clermont when she saw the SUV spinning out of control in the center of the intersection. She said she could see both a child and a dog pinned underneath.
"It was something really really hard to see," said Nestor, who was crying several hours later. She said after the crash, she saw pieces of the child on the street. "It's going to be hard to get over seeing this today."
Police had strung up white sheets across the northeast corner's sidewalk shortly after the crash, presumably to block the view of the scene and the SUV involved.
"This is really tragic," said Lisa Ferreira, who has lived in the community for a decade. "The car is on the sidewalk, and the kid was on the sidewalk too. It wasn't like they were out in the street." 
James said there was no community memorial planned, as the family had asked to be left to grieve in private.
An investigation into the cause of the crash was ongoing, but police said the Expedition's driver stayed on the scene.