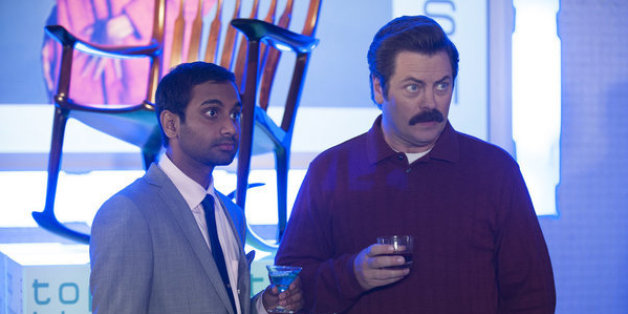 Yes, "Parks & Rec" is off NBC's schedule for a bit, but the stars of the show aren't really worried. Nick Offerman opened up about the hiatus status to The Hollywood Reporter, saying "We don't really bat an eyelash."
"It's not the first time, nor the second, that we've been shuffled around by the network," Offerman said when asked about the fervor. "We want the best for the network."
Offerman, who plays no nonsense Ron Swanson on the NBC comedy now in its sixth season, had an interesting analogy about the show's place at NBC. "They are a larger organism of which we're a living breathing part. I dare say we are the throbbing, turgid boner of NBC. Perhaps, more appropriately, we're also the second ovaries since our show is a matriarchy under Amy [Poehler]," Offerman told The Hollywood Reporter. "But like any organism, sometimes you're proud of your genitals, and you want to use them to give pleasure to others. And other times you have to focus on the other parts of your body -- if you have a bad tooth or an ear infection. In those instances, you don't generally want your genitalia exposed. And so you put it away while you pay attention to your haircut. If you're getting your lips or ears pierced, you don't want your genitalia stealing the thunder."
"Parks" was shuffled off NBC's schedule in favor of programming that will help draw attention to NBC's floundering new sitcoms "Sean Saves The World" and "The Michael J. Fox" show. As a result, "Parks" will have two weeks of back-to-back episodes in November before going back on hiatus until early 2014.
"We enjoy the cultural coitus into which NBC inserts us, but sometimes we understand that we will remain dormant within their trousers," Offerman said to THR. "As long as the lights are still on and we're still shooting, we're happy as clams. We just shot our 100th episode, which is 94 more than we thought we were going to go."
Adam Scott recently took to Twitter to ease fan fears over the hiatus, but there's still an uneasy feeling out there. "Parks" was recently bested in ratings by "Dog With a Blog," the Disney Channel sitcom about a talking dog who blogs.
Click over to THR for more from Offerman.
BEFORE YOU GO
PHOTO GALLERY
'Parks and Recreation'